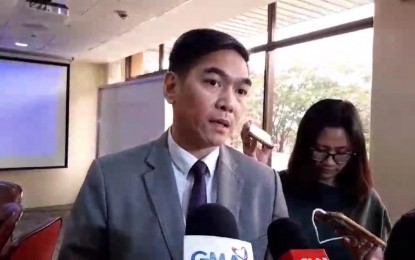 MANILA – The Anti-Money Laundering Council (AMLC) on Wednesday pushed for necessary legislative amendments to address the strategic deficiencies in the country's anti-money laundering and counter-terrorism financing efforts.
During the hearing of the House Committee on Banks and Financial Intermediaries, AMLC executive director Mel Georgie Racela said the needed reforms to the Anti-Money Laundering Act (AMLA) are crucial to prevent the Philippines from being grey-listed or even blacklisted by the world's central anti-money laundering organization Financial Action Task Force (FATF).
Racela said tax crimes and proliferation financing should be included as unlawful activities under AMLA.
He added that real estate developers and brokers should be included as covered persons.
A framework for the implementation of targeted financial sanctions for proliferation financing should also be proposed.
Other recommendations include the expansion of the investigative powers of the AMLC, as well as the prohibition of an injunction against the freeze and forfeiture powers of the AMLC.
"If the AMLA amendments are not passed, the Philippines will be grey-listed. The FATF will come up with an action plan, which is required to be implemented within definite timelines. This will again include legislative amendments to address deficiencies," Racela said.
"Failure of a grey jurisdiction to implement the FATF action plan will result in more counter-measures, and even black-listing," he added.
Racela warned that the implications of "greylisting" entail an increase in the cost of transacting with foreign financial institutions, such as de-risking or de-banking, as well as an increase in fees, borrowing rates, and transaction fees.
"For OFWs [overseas Filipino workers], this means less money for their families. For businesses, this means a higher cost of business and higher production cost," he added.
Other implications of grey-listing would include delay in transactions which means a 2-4 percent reduction in annual foreign currency remittances and negative reputational and country risks.
Earlier, House Committee on Ways and Means chairman Joey Salceda said four syndicate groups linked to drugs, terrorism, money laundering, and offshore gaming operations funneled PHP28.6 billion in cold cash into the country.
Senator Richard Gordon, meanwhile, has called for an inquiry into an estimated PHP22.7 billion which he said found its way into the country through the operation of POGOs.
Under the law, a person may carry up to the amount of USD10,000 (or equivalent in any other foreign currency), in cash or other monetary instruments, into and out of the Philippines. (PNA)