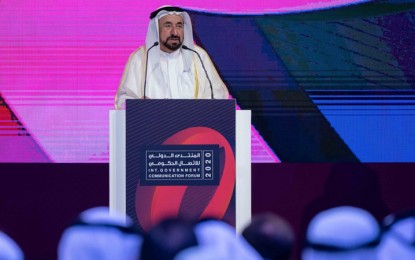 SHARJAH, UAE – The success of public communications is not the sole responsibility of the government but also lies with multiple stakeholders from across various sectors.
Speaking during the opening session of the International Government Communication Forum (IGCF 2020) here on March 4, Ruler of Sharjah His Highness Dr. Sheikh Sultan Bin Mohammed Al Qasimi said, "People in charge of internal and external communications in companies, journalists, PR professionals, website designers, media figures will together carry out these responsibilities."
Communication for the public, he said, is supposed to serve the people and its objectives.
"It must be directed towards informing people, encouraging dialogue, bringing positive changes in fields of health, education and security, and making the delivery of public services more transparent and effective through the use of right channels of communications," he added.
Sultan, who is also Supreme Council Member, took pride in saying that delivering "communication for the public" has been at the heart of Sharjah's 40-year cultural project.
Sharjah, which is the third largest and third most populous city among the seven emirates that make up the United Arab Emirates (UAE), covers 2,590 square kilometers and has a population of more than 1.4 million.
The UAE, which is composed of Sharjah, Abu Dhabi, Dubai, Ajman, Fujairah, Ras al Khaimah, and Umm al Quwain that maintain a large degree of independence, is governed by a Supreme Council of Rulers made up of seven emirs, who appoint the prime minister and the Cabinet.
He said Sharjah's leading cultural, scientific and artistic developments and achievements like the IGCF 2020 have been outcomes of participatory dialogue and open government-citizen communication that he calls "popular communication."
"Communication's core function is that of an enabler. Good communication accompanies people to be able to enjoy various public services and enhance their lives," he said, adding that Sharjah has achieved it after it set out on a journey to design and implement a public communication program in 2010.
2-way process
Meanwhile, Sheikh Sultan Bin Ahmed Al Qasimi, Chairman of Sharjah Media Council (SMC), cited the need to transform the role of government communication from a one-way message delivery service to a two-way participatory process.
He lamented the complex challenges faced by governments around the world in health, environment, security and cultural sectors due to misinformation or fabricated news by media that has affected the trust between governments and their people.
"Communication is a key enabler of trust between governments and the governed, and a strategic driver of sustainable development. We need to incorporate mechanisms that will generate faster responses from government to the public, between people from different cultures and between governments, globally," he said.
Understand, overcome
Juan Santos, former President of the Republic of Colombia and Nobel Peace Prize winner, expressed hopes that the forum will contribute to the understanding of the different challenges because it is only by understanding the challenges we can we overcome them."
"In today's polarized world, we need to recover the value of arguments over emotions and to realize that we all live in one common house," he said while talking about the importance of dialogue to sustain peace between people and cultures who think differently or have different values.
Themed "Beyond Communications," the 2-day IGCF held at the Sharjah Expo Centre from March 4-5, gathered thousands including 64 global thinkers, speakers, government officials representing 16 countries, international media, policy experts, social entrepreneurs, and communications and technology experts.
The global event, which featured 57 diversified events – 15 main sessions, 10 keynote speeches, 9 workshops, 3 brainstorming sessions, and 20 specialized forums, tackled global best practices in government communication anchored on four pillars, namely: Embedding a culture of engagement in government; Technology as a community enabler; Communication through culture; and Holistic well-being.
Now on its 9th year, the forum also discussed key challenges and issues in the field of government communication to propel channels between the government and the public. (PNA)