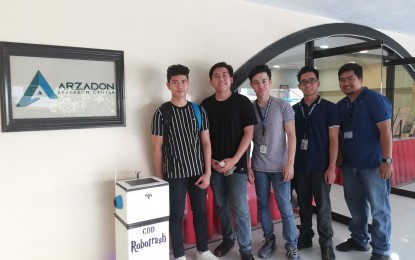 DAGUPAN CITY — A smart home, mirror, and trashcan are among the inventions of the students in Colegio de Dagupan (CdD) here.
In an interview Monday, Grade 12 student Dexter de Guzman said he came up with a smart trashcan that does only serve its main purpose, but could prevent the spread of viruses and germs.
"Naisip ko po na madami na ngayong kumakalat na viruses or bacteria baka po dahil din iyon sa mga maruming basurahan (I thought that the spread of viruses or bacteria are prevalent nowadays, and it could possibly be because of dirty trashcans)," he said.
Unlike the typical rubbish bins, de Guzman's invention he called "CdD robotrash" opens on its own through a sensor, thus there is no need to lift its cover using a hand or a foot.
"With some trashcans, you still need to use your hand that makes the spread of germs (which) might be containing viruses or bacteria, high risk.
While with bins that open by stepping a foot on it, I noticed that some covers spew wastes, especially liquid ones, whenever you open the trashcan, still offers a possibility of spreading germs," he said.
Garbage bins without cover are not also advisable since these could accumulate water during rainy seasons, or can be infested by insects and other animals, he added.
De Guzman's robotrash can be controlled via a remote for its relocation. It also has speakers, charges phones and is powered by a solar panel.
"For its improvement, I was advised to use (install) global positioning system on it to further its mobility," he said.
Meanwhile, fifth year Electronics and Communications Engineering (ECE) student Lorden Kim Cornel came up with a program called smart home, wherein appliances in a house could be monitored and controlled through a voice command even away from home provided there is an internet connection.
"This works well, especially if a person forgot to turn off his or her appliance, he or she could easily monitor and control the appliances still working even after he or she left the house with the use of his or her cellphone by a voice-activated command," he said.
Franz Velasco, also a fifth year ECE student, has invented the smart mirror which is now installed at the Arzadon Research Center (ARC) where the other inventions of CdD's students were displayed.
Velasco's smart mirror is a voice commanded program that can control the switching on and off of the lights at the ARC, as well as provides updates on the weather, news, upcoming events, among others.
Engr. Roderick Cabaña, assistant dean of CdD's engineering department, said some 15 projects of about 150 students are displayed at the ARC.
"The materials they used in some of their inventions are mostly recycled and eco-friendly products," he said.
One of the inventions presented in the exhibit is the hollow blocks made from cement and organic waste materials such as rice husk, potato, and banana peel ash.
"Most of their inventions are geared towards improving the lives of the people but also sustaining the environment," Cabaña said.
CdD president Dr. Voltaire Arzadon said there are some more inventions of the students that are on the works, such as a drone that could readily check the air pollution in a certain area.
He said the exhibit of inventions is being done by the school to encourage more students to innovate or invent new technologies or equipment that would be beneficial to the community.
"We have been encouraging our students for as long as I could remember to be innovative and some of their inventions really made it to the top," he added.
Engr. Gerwin Guba, a graduate of Computer Engineering at CdD in 2003, is the brainchild of the Project NOAH (Nationwide Operational Assessment of Hazards), which is a breakthrough in the country's disaster management.
He is also one of the engineers who developed and designed the DIWATA-I and II, Philippine microsatellites launched to the International Space Station on March 23, 2016, and October 29,2018, respectively.
Guba was awarded with the Presidential Lingkod Bayan 2019 by President Rodrigo Duterte. (PNA)