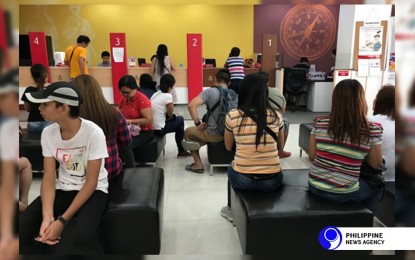 MANILA – Several banks have announced their decision on payment extensions on loan products after the government placed Luzon under an enhanced community quarantine until April 12.
In an advisory, BDO said it is giving qualified credit card, auto, home, small and medium enterprise (SME), and personal loans customers with due dates of up to April 15, 2020, a 60-day payment extension.
"Please expect an e-mail and SMS from us regarding this matter," it said.
The Philippine Savings Bank (PSBank) is giving a 30-day grace period on payments for a qualified auto loan, home and personal loan borrowers, who will be notified about this payment extension through electronic mails.
PSBank is also waiving fees on fund transfers by its account holders to other bank accounts made through InstaPay and PESONet starting March 18.
"Amidst the challenges we are all facing with Covid-19 (coronavirus disease 2019) and consistent with our Simple Lang, Maaasahan service promise, we are providing assistance to our valued customers as we believe that health and safety should be the focus of everyone during these trying times," it said.
CIMB Bank is also extending by a month the due date for personal loan borrowers who need to pay their loans by April 1, 2020.
"Rest assured that no late fees and no additional interest will be added to your due payment," it said in an advisory.
The Security Bank Corporation (Security Bank) said a 30-day extension will be given to credit card, home, personal, auto, business mortgage, and business express loan borrowers with no past-due balance and have due dates as of March 16, 2020.
"Meanwhile, new product applications such as loans will but put on hold all scheduled releases will be appropriately re-scheduled. We will provide updates on new scheduling in the coming days. For everyone's safety, please refrain from going to the branches without a confirmed releasing schedule," it said.
The bank is also waiving the transaction fees for EGiveCash and automated teller machine (ATM) fees for Security Bank ATM cardholders nationwide even if they withdraw from other banks' machines.
"We will continue to update our Facebook page: fb.com/SecurityBank for additional services that we will offer to our clients during this period," it added.
First Digital Finance Corporation (FDFC) said its financial technology firm, Billease, is extending installment payment dues for free and will waive fees to those who have already received their payment notification prior to the enhanced community quarantine (ECQ) announcement.
The payment leeway is meant for qualified customers with dates from March 17 to April 12, although it was not specified until when the extension period will be.
"Likewise, the company is urging customers to practice social distancing and use online banking and online payment channels such as Coins.ph and GCash for those who still wish to pay their dues," the company said.
FDFC chief executive officer Georg Steiger said their customers may still avail loans and use installment payment to select merchants like Lazada even during the ECQ period and assured clients that the company's support teams are on duty from 9 a.m. to 6 p.m. from Monday to Saturday.
The United Coconut Planters Bank (UCPB) is also extending by 30 days payments for DrivEasy Auto Loan, HomEasy Home Loan, SalarEasy Personal Loan or BizEasy Business Loan due March 19 to April 18.
"We hope this will help ease their worries while they stay at home with their families during these uncertain and challenging times. With the 30-day payment holiday, it's one less item to think about so they can focus more on staying well for their loved ones," UCPB Vice President and Marketing Group Head Charina Balanquit said.
The bank asked their account holders to call the bank's Customer Relations Center at (632) 8811-9111 or send electronic mail to or [email protected] for any inquiry.
In a statement, state-owned Land Bank of the Philippines (Landbank) is also calling its account holders and clients to use the bank's electronic and digital platforms for their banking requirements to lessen the need to go out amid the enhanced community quarantine.
Landbank president and chief executive officer Cecilia Borromeo urged their account holders to utilize their Visa debit card and Mastercard credit card for cashless payments and the banking public to use the bank's 2,196 ATMs and 159 cash deposit machines nationwide.
Account holders may also tap the bank's mobile banking App, iAccess, WeAccess, Electronic Tax Payment System and Phone Access, to check their balance, view transaction history, and transfer funds.
Landbank branches nationwide will have shortened operations period starting March 18 which is from 9 a.m. to 2 p.m.
The bank said it is operating on skeletal workforce at its head office in Manila and in select branches, and social distancing is now being implemented within the bank premises.
Account holders may follow the bank's social media accounts, @landbankofficial for Facebook and Instagram and @LBP Official for Twitter, as well as check its website, www.landbank.com, for additional information. (PNA)