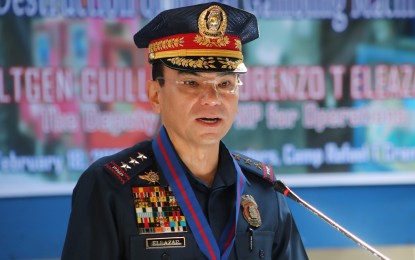 MANILA – The Joint Task Force Corona Virus Shield (JTF CV Shield) on Friday warned the public against "disinfect and sanitation" scams in wake of the coronavirus disease (Covid-19) crisis.
TF CV Shield head, Lt. Gen. Guillermo Eleazar, said only the national government and local government units are allowed to do such functions.
He also urged the public to immediately report to police groups professing to offer such services in exchange for a fee.
"The public must be very discerning and alert on such scams being perpetuated and they must report to authorities unscrupulous persons or groups doing such illegal actions," Eleazar said in a media statement.
Meanwhile, PNP chief, Gen. Archie Francisco Gamboa appealed to the public to refrain from sharing unvalidated reports on social media that may induce panic.
"The reality is that over the past five days since community quarantine was enforced in Metro Manila and recently enhanced over the rest of Luzon, crime incidents have significantly decreased," Gamboa said in a statement.
He ordered the PNP Anti-Cybercrime Group to trace those behind the circulation of fake news in social media of a purported burglary and robbery in McKinley Hill, Taguig City, and Binondo, Manila; and of alleged public unrest in San Andres, Manila all of which were both found to be hoax reports.
"Although we have not received validated reports of crime incidents in NCR and surrounding areas, we are nonetheless alerting our field units to take preemptive action," Gamboa said.
He said local police units are instructed to coordinate closely with security managers of commercial centers and vital facilities, and leaders and barangay authorities of residential communities to establish neighborhood watch systems that will alert police and residents of possible security situations.
Gamboa said the PNP will deploy more mobile patrol units for anti-criminality and police visibility operations in the vicinity of commercial centers, vital establishments, and residential communities.
"Our laws provide stiff penalties for persons who will propagate false reports, especially if committed during a period of national emergency. Rest assured police and military security forces and on top of the situation and ready to respond to any calls for assistance from the public," he said.
Authorities can be contacted via following hotline numbers: Joint Task Force CV Shield Command Center, PNP Command Center Globe: 09173125626; Smart: 09988940013; Landline: 7253176 and Email: [email protected] (PNA)