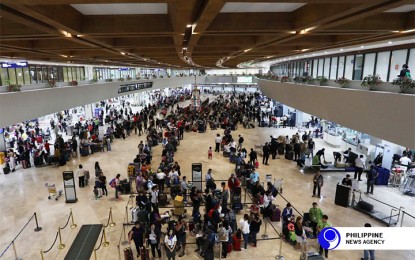 MANILA – Foreign nationals are temporarily barred anew from entering the country after the Department of Foreign Affairs (DFA) suspended its issuance of visas in all foreign service posts all over the world.
In an advisory on Friday, the Department of Transportation (DOTr) said as a result of the issuance of DFA Foreign Circular (FC) No. 29-2020, the temporary ban will begin at 12 a.m. on Sunday with some exceptions.
"Only OFWs (overseas Filipino workers), repatriating Filipinos, their foreign spouses and children (provided that the foreign spouse and children are traveling with the Filipino national), foreign government and international organization officials accredited to the Philippines, will be allowed to enter the country," the advisory read.
Meanwhile, it said OFWs and foreign nationals who wish to leave the country may do so through any ports in Luzon for the duration of the enhanced community quarantine and may get through checkpoints by presenting proof of international travel scheduled within 24 hours.
However, Filipino tourists are banned from leaving the country.
Uniformed personnel, officials, those transporting laboratory specimens related to the Coronavirus disease 2019 (Covid-19), or those extending humanitarian assistance will be allowed to travel via land, air, or maritime means throughout the country.
To help foreigners stranded in several airports due to the quarantine measures, it said sweeper flights for foreign nationals will be allowed to continue and would bring them to airports with international flights.
For those who need to travel through the country's roads to get to any airports, it said one person is allowed to fetch or bring a passenger to an airport but must immediately depart after pick up or drop off.
"The driver should carry with him/her a copy of the airline ticket of the passenger as proof of conveyance," the advisory read.
The DFA FC 29-2020, signed by DFA Secretary Teodoro Locsin, Jr. on Thursday, not only suspended the issuance of visas but also the visa-free privileges of Hong Kong, Macau, Macau-Portuguese, British National Overseas passports and those under Executive Order No. 408, s. 1960.
It added that the office of the Foreign Affairs Secretary or the Undersecretary for Civilian Security and Consular Concerns may exempt, on a case-to-case basis, the foreign nationals "otherwise covered by this temporary suspension". (PNA)