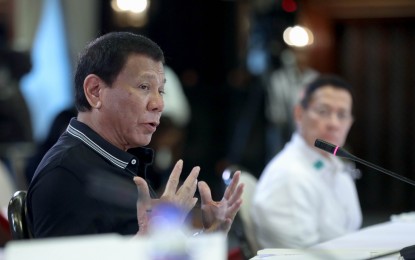 MANILA – President Rodrigo Duterte has asked Congress to grant him "for a limited period and subject to restrictions" authority to exercise powers necessary to meet the coronavirus disease (Covid-19) national emergency amid rising number of cases in the country.
"Pursuant to the powers vested in me under Section 15, Article VI of the Constitution, I, Rodrigo Roa Duterte, President of the Philippines, do hereby call the Congress of the Philippines to a special session on March 23, 2020 or as soon as practicable to authorize the President to exercise powers necessary to carry out urgent measures to meet the current national emergency related to the Coronavirus Disease (Covid-19)," Duterte stated in Proclamation 933 he signed on March 21, calling the Congress to a special session.
In the proclamation, Duterte also asked the lawmakers to provide him "ample latitude to utilize appropriate funds to strengthen government response against the threat" of Covid-19, and "to continue providing basic services to the people, in addition to the urgent and critical measures implemented pursuant to Proclamation Nos. 922 and 9292, series of 2020, declaring a state of public health emergency and a statement of calamity throughout the Philippines."
In his letter address to Senate President Vicente Sotto III, Duterte sought for the immediate enactment of a proposed "Bayanihan Act of 2020" which seeks to declare the existence of a national emergency arising from the Covid-19 situation.
Both the Senate and House of Representatives are expected to hold special sessions to discuss the measure on Monday.
When the public interest so requires, the measure, if enacted, will allow Duterte to temporarily takeover operations or direct the operation of any privately-owned utility or business affected with public interest to be used in addressing the needs of the public during the Covid-19 emergency as determined by the President, including but not limited to, hotels and other similar establishments to house health workers, serve as quarantine areas, quarantine centers, medical relief and aid distribution locations or other temporarily medical facilities; public transportation to ferry health, emergency, and frontline personnel and other persons; telecommunications entities to facilitate uninterrupted communication channels between the government and the public.
Management of these enterprises will remain with the owners but the President or his representative will direct and supervise their operations, providing for a reasonable compensation for additional damage or costs incurred by the owner.
The proposed bill allows Duterte to immediately procure goods which may include personal protective equipment (PPEs); lab and medical equipment; testing kits; lease of property or venue for use to house health workers or serve as quarantine centers, medical relief and aid distribution locations, or temporary medical facilities.
It grants him powers to regulate and limit operations of transportation on the road, rail, aviation, and maritime sectors whether public and private and regulate traffic on all roads, streets, and bridges; authorize the removal of encroachments and illegal constructions in public places.
Under the proposed measure, he may also cancel programs, projects, or activities for purposes of generating savings and reprogram, reallocate, or realign savings within the executive department to address the Covid-19 pandemic.
The proposed bill repeals laws which have earmarked unspent collections so that the savings may be utilized.
It also allows him to reprogram, reallocate, and realign any appropriation in the 2020 General Appropriations Act (GAA).
The bill also aims to punish any violation of the rules, regulations and directives of the national government with imprisonment of two months or a fine of between PHP10,000 to PHP1 million.
Not emergency powers
In an interview over GMA-7, Cabinet Secretary Karlo Nograles said Duterte was merely looking for "flexibility" to make realignments in the 2020 national budget.
"Ang hinahanap lang naman ng Malacañang ay magamit yung budget na nasa General Appropriations Act or yung budget for 2020 na mabigyan ng flexibility si Pangulo na yung ibang mga provisions doon sa budget bill ay magagamit niya para sa pangangailangan ng ating paglaban dito sa Covid-19 (Malacañang is hoping that the President would be given flexibility to use part of the provisions in the budget for the government's fight against Covid-19)," he said.
He, however, said he will leave it to Congress to decide whether to grant the President's request.
"Yan po ang pagdedebatihan sa Senado at sa Kongreso at hintayin na lang natin ang kanilang magiging resulta ng kanilang debate (It will be debated in the Senate and Congress and we will be waiting for the results)," he said.
Presidential Spokesperson Salvador Panelo also clarified that Duterte was not seeking emergency powers but "powers necessary to carry our urgent measures to implement the national emergency."
Realignment
Albay Rep. Joey Salceda said Congress will allow Duterte to realign almost PHP275 billion from the national budget to fund the government response to Covid-19, including support for families affected by the Luzon-wide quarantine.
"I think Congress tomorrow will essentially approve just one sentence, allowing the President to realign almost PHP275 billion," Salceda said in a Laging Handa public briefing on Sunday.
A portion of this amount would also be used as hazard pay or incentives of frontliners in the drive against the coronavirus disease pandemic, he said.
He noted that PHP144 billion of the amount would be allocated for 17.9 million Filipino families which will each receive an PHP8,000 financial assistance.
In addition, he said the government may also provide negative interest rate loans for companies affected by the quarantine.
As of Sunday, health authorities recorded a total of 380 confirmed cases of Covid-19 with 25 deaths, and 15 recoveries.
President Rodrigo Duterte placed the entire Luzon under an enhanced community quarantine which strictly requires residents to stay indoors and limit movement to accessing basic necessities.
The country is currently under a state of public health emergency and a state of calamity due to the highly-infectious disease. (PNA)