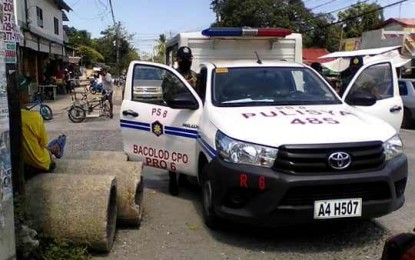 BACOLOD CITY – A total of 728 residents here have been arrested for violating the curfew hours – from 10 p.m. to 4 a.m. – during the period March 15 to 21, records of the Bacolod City Police Office (BCPO) have shown.
Lt. Col. Ariel Pico, public information officer of BCPO, on Monday again called for the cooperation of the city residents in the implementation of the general community quarantine, which includes staying at home and adhering to the curfew, to prevent the spread of coronavirus disease-2019 (Covid-19).
"Covid-19 is there 24/7. Don't wait for the curfew to go home," Pico said.
The total number of arrested persons is based on the figures provided by the Mobile Patrol Group (MPG) and Police Stations 1 to 10 after a seven-day period.
Arrested by Police Station 1 were 99 violators; Police Station 2 -- 37; Police Station 3 -- 130; Police Station 4 -- 122; Police Station 6 -- 104; Police Station 7 -- 24; Police Station 8 -- 69; Police Station 9 -- 36; and Police Station 10 -- 15. The MPG apprehended 92 persons while Police Station 5 had no arrests.
After being detained overnight, the violators are released by 8 a.m. the following day.
In Bacolod, the curfew is being enforced as provided in Executive Order No. 22 issued by Mayor Evelio Leonardia, placing Bacolod under a general community quarantine starting March 15.
"These restricted hours shall require any person to already have returned to his or her home and to stay thereat until the lapse of restriction," the order stated.
The order also asked parents and guardians to take proper responsibility for their minor children or wards in observing the curfew.
"Any person failing or refusing to observe this curfew measure will be dealt with properly by the Philippine National Police as regards the inimical act committed in violation of public order," it added.
After a resident of Bacolod has tested positive for Covid-19, Leonardia said the city be more stringent in the implementation of the general community quarantine.
"We should be stricter with the imposition of the curfew. We should be stricter with our border check-up points," the mayor added. (PNA)