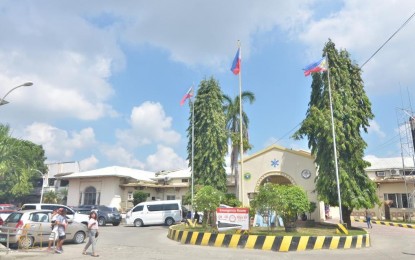 ILOILO CITY – Hospitals in Iloilo have established an initial protocol for the admission of patients found positive for the coronavirus disease 2019 (Covid-19) in anticipation of the increase in cases.
"There is a need to establish an initial protocol for the admission and treatment of these patients to efficiently manage the medical personnel and resources of Iloilo City," states part of the memorandum of agreement (MOA) entered into by government and private hospitals with the Department of Health (DOH) on Tuesday.
Western Visayas Medical Center (WVMC) in this city's Mandurriao district has been identified as a dedicated facility hence will allocate its 450-bed capacity for patients under investigation (PUIs), patients with severe acute respiratory infection (SARI), elderly whether or not they have co-morbidities (presence of two chronic diseases or a patient has underlying conditions), and non-elderly with uncontrolled morbidities.
"As per expert's opinion and expert's consultation, they see that infectious patients like Covid-19 should be placed in one facility for it not to spread to other areas," said Dr. Jane Juanico, infectious disease section head of the Department of Health-Center for Health Development Western Visayas (DOH-CHD 6) in a phone interview.
The DOH Western Visayas intensified its tracking of SARI after the Code Alert System for the coronavirus disease 2019 was raised to Code Red (sub-level 1).
WVMC a Level III hospital has medical specialists and equipped with facilities and machines that could look into the Covid-19 patients. Moreover, logistics and other resources will be placed at the hospital in support of the Covid-19 patients, Juanico said.
"The medical center facility has long been ready as a Covid hospital and being a DOH hospital," she said.
Under the agreement, WVMC will first transfer the first 200 non-Covid-19 cases to the West Visayas State University Medical Center (WVSUMC) to accommodate the target patients. Gradually, it will free up its patient bed capacity to reach the 450 target bed capacity.
WVSUMC, a tertiary teaching and training hospital, will absorb the first 150 non-Covid-19 cases from WVMC but shall allocate a total of 212 bed-capacities for non-Covid-19 cases.
Meanwhile, other non-Covid-19 patients who could not be absorbed by the WVSUMC shall be admitted by other hospitals, with Level 3 Tertiary hospitals as a priority.
These include the St. Paul Hospital, Iloilo Mission Hospital, Iloilo Doctors Hospital, Qualimed Hospital Iloilo, Amosup Seamen's Hospital, The Medical City Iloilo, Metro Iloilo Hospital and Medical Center and Medicus Medical Center.
Another tertiary government hospital that is operated by the DOH, the Western Visayas Sanitarium, will serve as a dedicated hospital for PUIs with mild signs and symptoms and non-elderly with controlled co-morbidities.
PUIs currently admitted in hospitals other than the WVMC have to be properly managed by the admitting hospital until they get discharged.
Data released by the Regional Disaster Risk Reduction and Management Council (RDRRMC) showed that since January 1 until noontime of March 23, the region has 188 PUIs; 70 are admitted, 50 outpatient, 63 have been discharged, while five have died.
Of the statistics, two were found as Covid-19 positive; 90 are negative; 43 have pending results; no samples were taken from 52 for exhibiting mild symptoms, have no co-morbidity, not elderly and there is no need for lab-confirmation as per March 11 Covid-19 algorithm while one has a non-Covid-19 strain.
Juanico said that most of the PUIs that were admitted are stable and none is critically ill. The medical condition of the positive Covid-19 patient from Iloilo is improving as per information from the focal person of the hospital where the patient is admitted. (PNA)