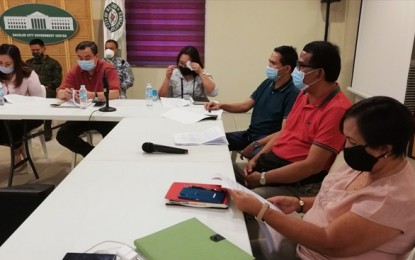 BACOLOD CITY – Residents of Negros Occidental and this city are now required to wear face masks in public places as another measure to contain the coronavirus disease 2019 (Covid-19).
On Tuesday night, Negros Occidental Governor Eugenio Jose Lacson and Bacolod City Mayor Evelio Leonardia issued separate executive orders (EOs) on the mandatory use of face masks.
"As a disease prevention and control measure in limiting the spread of Covid-19, the Provincial Health Office has recommended the use of face masks to be mandatory when going out in public," Lacson said in EO 20-22.
The directive stated that reusable face masks are encouraged. It also defined face mask as any fabric, lining or barrier that can cover the nose and mouth of the wearer. This includes, but is not limited to, cloth masks, bandanas, surgical masks, and similar items.
"Violations of this order shall be punishable in accordance with the applicable penalty provided under Section 10 of Republic Act 11332 (Law on Reporting of Communicable Diseases) and other applicable laws," the order further stated.
In Bacolod City, Leonardia issued EO 27, series of 2020, which states that "it is a scientific fact that mask-wearing can help decrease transmission rates of Covid-19 along with correct hand washing and strict social distancing."
"To ensure the success of the imposed community quarantine, the City of Bacolod should utilize all preventive measures in reducing virus transformation," the order further said.
For purposes of EO 27, face masks include surgical masks or any reusable device made of cloth or any breathable material worn over the nose and the mouth that can serve as a protection or barrier from a disease such as Covid-19.
Section 1 stated that the wearing of disposable and/or reusable face masks in public places in the city shall be mandatory while Section 2 encouraged all persons in Bacolod to wear face masks in their residences or places of lodging.
On March 23, the Bankers' Club of Negros Occidental already implemented the "no mask, no entry" policy "as a way to mitigate exposure to the virus".
As such, "(a)ll bank employees and clients are required to wear masks to be granted entry into the bank premises" and "shall temporarily take off masks as part of security protocol by bank guards prior to entry," its resolution said. (PNA)