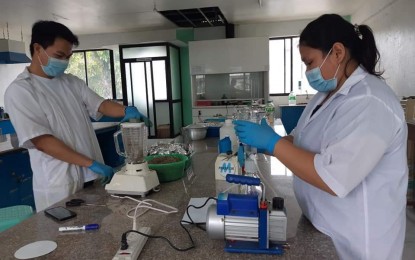 MANILA -- The Caraga State University (CSU) targets producing filters for at least 600 masks that would be distributed to front-liners in Caraga.
In a phone interview with the Philippine News Agency (PNA) on Thursday, CSU president Anthony Penaso said the nanocellulose filters will be inserted in 500 face masks made from ordinary cloth and will be used on an initial 100 pieces 3D-printed masks.
The CSU laboratory where the nanocellulose filters are being produced was funded by the Department of Science and Technology (DOST) from 2017-2018, under an Institutional Development Project called "Development of Material Science and Polymer Chemistry Laboratory".
The total project cost was PHP6 million, and this will be monitored by the DOST until 2022, he said.
"(The) production of nanocellulose filters uses personal funding and donations. At present, we have already collected PHP33,500 for the 3D-printed masks, and we can make 100 pieces out of that (amount)," Penaso said.
For the face masks made from ordinary cloth, CSU is targeting at least 500 pieces, he added.
Initially, front-liners such as medical professionals and police personnel manning checkpoints in Caraga will be the recipients of these masks.
"Once we can do mass production, we can also distribute (masks) to other regions where needed," Penaso said.
CSU will continue the production until there are supplies, and until there are front-liners needing these face masks, he added.
Both the fabrication of filters as well as 3D printing are ongoing. CSU will distribute the masks once it finishes producing the initial target numbers.
CSU earlier distributed food packs, instant foods, and face shields, he said. (PNA)