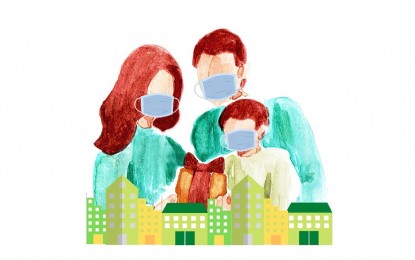 MANILA -- The global pandemic has brought new things to consider in the business sector as people escalate their standards on safety and health.
Top property developers of the Philippines, in a video conference, shared their expertise in creating a 'healthy building' that will stand against future pandemics.
In an episode of real estate platform Lamudi's seminar, the developers highlighted the high-performance ventilation strategies and sustainable design for improved productivity and health from better indoor environments.
What makes a 'healthy building'?
Christopher Narciso, executive vice president of Arthaland Corporation, said a healthy building includes features that protect and take care of the occupants.
"It promotes practices that keep the occupants well and facilitates opportunities for them to connect with one another," he added.
Emma Imperial, president, and chief executive officer of Imperial Homes Corporation, puts her trust in the use of special raw materials in creating healthy buildings.
"We have a technology that comes from Denmark that uses ultra-high-performance concrete. This kind of material is non-porous, and therefore bacteria can't come in, and the life of people inside is going to be a lot safer," she said.
Marla Mendoza, assistant marketing manager of Filigree, said the popular term "green buildings" should not be confused with "healthy buildings" as the latter carries a more holistic perspective.
In a way, she said properties today go beyond addressing the environmental repercussions that come with construction and maintenance, focusing also on the safety and well-being of the very occupants of the property.
"The whole point of having green buildings is fighting climate change. But then, there's heightened awareness now that buildings should be able to support and protect humans. It's not just for the environment, but also for the occupants," she added.
Breathing spaces are key
Observing the government order to stay at home, the public is inclined to work and study at home.
Hence, generous spaces in residences are suggested for better productivity.
"The more that you have a desirable indoor environment, the more you want to stay inside as well, the more you're not anxious," Mendoza said, citing the ventilation system and presence of natural light as essential in design.
Most of Filigree's units also feature balconies that offer ample space for people to soak in some sunshine.
She also added the importance of being in a walkable community as it encourages people to have a little bit of exercise when going outside.
Meanwhile, Imperial reiterated the use of ultra-high-performance concrete in preventing diseases in residential communities.
"This high-performance concrete is able to avoid leak-proof surface because of its non-porosity. This one resists the growth of bacteria and viruses. In other words, the application of high-performance concrete eliminates potential diseases and infections," she said.
In contrast, conventional hollow blocks eventually allow mold to build up inside homes, affecting the respiratory health of the occupants over time.
Mentioning solar power, Imperial likewise noted that the use of renewable energy sources is crucial in reducing pollution at large, thus protecting people's well-being.
Essential, not luxury
With the spacious design and quality material, the stakes are higher indeed for healthy buildings.
Mendoza recognized that this is something industry players can advocate for.
"Real estate can even leverage on this, and [tell] the market that they need this, that this is actually essential. This is no longer for luxury," she said.
Arthaland's Narciso sees that healthy buildings will be a part of the status quo post-pandemic.
"What this pandemic has brought about is the [acceleration] of norms and practices that will eventually become the new normal: the need for green and healthy [buildings], observing sustainable practices, taking care of the environment and the people," he said.
"Whether it's for luxury or affordable or mid, green or healthy features were treated as marketing elements, things to help sell. But I think we all have to adopt this as part of our lifestyle now. These are basic essentials to healthy living," he added. (PNA)