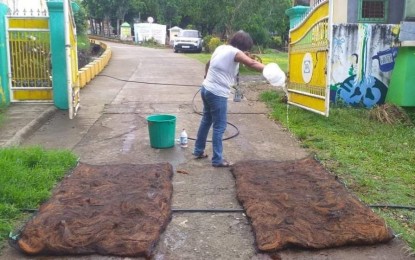 SAN JOSE DE BUENAVISTA, Antique – Beneficiaries of the Shared Service Facility (SSF) of the Department of Trade and Industry (DTI) in the municipality of Sebaste, Antique are producing road ramp sanitizers out of coco coir to support the local government unit's (LGU) campaign to prevent the spread of Coronavirus 2019 (Covid-19).
The road ramp sanitizers are produced by the Callan Basic Ecclesial Community (BEC) Livelihood Association, a recipient of the SSF on coco-based processing last year.
Henry R. Riomalos, president of the association, in an interview Friday, said that he gave the coco coir mat to personnel of the Bureau of Fire Protection, who were looking for a place to put a vehicle disinfectant in checkpoint border areas such as Sebaste, Culasi and Pandan towns.
He said they found the coco coir mat useful that they started to make road ramp sanitizers out of the coconut by-product to be donated to their LGU.
The road ramp is one-meter wide, three meters long, three inches thick, and covered by fish net.
"We are still in the process of further developing the road ramp sanitizer to make it more sturdy and absorbent of disinfectant," Riomalos said.
He said that as of Friday, they have already donated two pairs of road ramp sanitizers to each of their border checkpoints aside from those given to the isolation facility of their municipality.
"Our LGU is also grateful that we have now the road ramp sanitizers," he added.
Riomalos said that the association plans to make more road ramp sanitizers to be given out to other LGUs and soon also for their livelihood.
He said their association, with 15 active members, produced coco-by-products such as doormats made of coconut coir and key chains, among others.
"We also make coco peat that is used as organic compost," he said. (PNA)