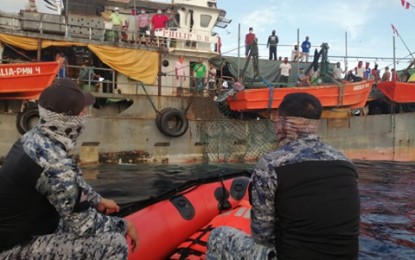 DUMAGUETE CITY – Fishermen on board a vessel are being watched over and disallowed to disembark while anchored off Barangay Jilocon, San Jose town in Negros Oriental after three of them were reported to have died during a fishing expedition.
The body of the last fisherman to die on board the deep-sea fishing vessel that arrived in the town on Sunday was cremated on the same day.
Dr. Liland Estacion, Assistant Provincial Health Officer and head of the health committee of the provincial Inter-Agency Task Force for the Management of Emerging Infectious Diseases (IATF-EID), in an interview on Monday, said proper health protocols had to be followed in retrieving and disposing of the body since two other fishermen on board the same vessel also died earlier.
She said while the medical certificate issued by the Sibulan local government showed the cause of death was ulcer, safety precautions had to be observed in disposing of the body because of the threat of the coronavirus diseas e 2019 (Covid-19).
The date of the fisherman's death was not immediately known as more information is being gathered by the IATF-EID here.
Estacion said the three fishermen died during the fishing expedition on board the Phillip D.R. vessel which departed this city in March.
"According to the son of the owner of the vessel, two fishermen were admitted (in Metro Manila) and were swabbed before they died," she said.
The two bodies were brought to Metro Manila on board a "fish carrier", or a vessel that retrieves the fish catch from the Phillip D.R.
Estacion also said there are three other fishermen from the same vessel that are currently admitted at a hospital facility in Metro Manila.
Meanwhile, the remaining crew and fishermen on board the Phillip D.R. are not allowed to disembark, nor allowed to depart until the IATF-EID gives the green light, she said.
Estacion said Governor Roel Degamo had ordered authorities to obtain copies of the death certificates of the fishermen who died, and the throat swab results of the two who died in Metro Manila.
Some of the fishermen on board are believed to be from Negros Oriental, but this will have to be verified by the team, she added.
For now, they are all "quarantined" on the vessel and being monitored, and the decision to have them throat-swabbed for possible Covid-19 infection will be determined after an inspection by the IATF-EID team, Estacion said.
She said on Monday afternoon, personnel from the Provincial Health Office, Department of Health, Department of Labor and Employment, Philippine Coast Guard (PCG), and the Bureau of Fire Protection, among others, were scheduled to board the fishing vessel for inspection and massive disinfection procedure.
Lt. Senior Grade Donna Lizza Duran Ramacho, PCG-Dumaguete Station commander, said some of their personnel were deployed to guard the vessel that arrived in San Jose around 6:30 a.m.
PCG and police personnel are also guarding the shorelines to ensure that nobody from the vessel will attempt to come to shore pending the procedures being carried out by the IATF-EID, she added. (PNA)