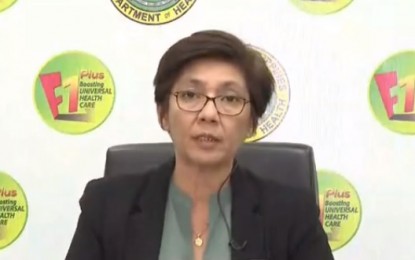 MANILA – The total number of confirmed coronavirus disease 2019 (Covid-19) cases among health workers has reached 2,314 after more than 100 persons contracted the disease.
In a Covid-19 virtual presser on Monday, Department of Health (DOH) Undersecretary Maria Rosario Vergeire, however, said the number of health workers infected with Covid-19 started to drop on April 11.
"Of the total number, 1,341 are active cases. We're happy to report that we have not recorded any death due to Covid-19 among our healthcare workers yesterday. The total number of deaths among our healthcare workers is 35," Vergeire said in a mix of English and Filipino.
Meanwhile, the total number of healthcare workers who recovered from the disease rose to 938.
As of May 17, the DOH reported that the total number of nurses infected with Covid-19 stood at 841, with 671 doctors or physicians, 144 nursing assistants, 84 medical technologists, 42 radiologic technologists and 284 non-medical staff.
For the emergency hiring of health workers, the DOH has received a total of 143 facility requests as of May 17.
"We already have 5,601 slots approved for hiring in 121 hospitals and quarantine facilities, Philippine Arena Covid-19 facility, and QI (Quezon Institute) temporary quarantine facility. We have 1,759 personnel hired in 51 hospitals and quarantine facilities," she said.
Of the total number of hired personnel, about 159 are doctors or physicians; 462 are nurses; 290 are medical technologists; 33 are respiratory therapists; 68 are radiologic technologists; three are medical equipment technicians; 322 are nursing attendants; 83 are administrative assistants; 101 are administrative aides; and 238 belong to other designations.
She said there were 756 redeployed nurses under the DOH Nurses Deployment Program, 167 in Luzon and 589 in the Visayas and Mindanao. (PNA)