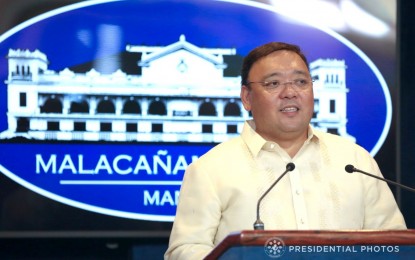 MANILA – Malacañang said Wednesday it is "necessary" to extend the special temporary powers granted to President Rodrigo Duterte to manage the crisis in the country brought about by the coronavirus disease 2019 (Covid-19) outbreak.
In an interview with ABS-CBN News Channel, Presidential Spokesperson Harry Roque said Duterte should be given until September to use emergency powers to boost his administration's fight against Covid-19.
"It's not a preference. But I think it definitely is necessary to give us at least 90 days," Roque said. "Of course, extraordinary power is something that is reserved for extraordinary circumstances. But the problem here with Covid-19 is without the vaccine, we'll never go back to normal and it's still extraordinary."
Republic Act (RA) 11469, or the Bayanihan to Heal as One Act, allows Duterte to wield emergency powers to address the Covid-19 crisis that is grappling the country.
The law, which was enacted on March 24, is only effective for three months, unless extended by Congress.
Cagayan de Oro City Rep. Rufus Rodriguez on Tuesday filed House of Representatives Bill 6811, which seeks the extension of Duterte's special powers for another three months as it is "clear that the pandemic will not be over by June 24, 2020."
Roque sought the amendment to the sunset provision of RA 11469 to allow the further extension of Duterte's emergency powers amid the outbreak.
"Well, the Bayanihan clause contains a sunset clause three months from the date of effectivity. So if it's going to be extended, Malacañang would like to see that the bill itself, the sunset clause, will be amended to provide further extension of the emergency powers conferred on the President," he said.
Quizzed if the Palace wants Congress to extend Duterte's emergency powers until December, Roque said it would depend on the situation.
Nevertheless, he expressed confidence that lawmakers "can give the emergency powers anew if they wish and if Malacañang would request."
"We'll see from there if at the end of 90 days (September), there's a need for emergency powers still, then it can be extended until December," Roque said.
Malacañang on Tuesday said Duterte was able to exhaust all the temporary special powers granted to him by Congress to allow his administration to arrest the spread of Covid-19.
As of Tuesday, the total number of Covid-19 infections in the country has climbed to 14,669. About 3,412 Covid-19 patients have recovered, while 886 people have died. (PNA)