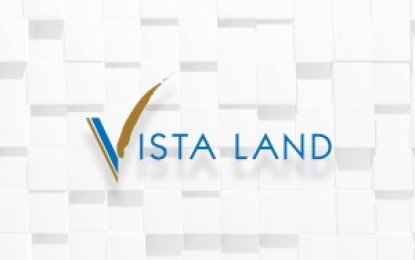 MANILA – Vista Land & Lifescapes, Inc., one of the country's leading integrated property developers, generated a net income of PHP11.6 billion in 2019, up by 10 percent from PHP10.5 billion the previous year, driven by the strong performance of its commercial assets and sustained contribution from its residential business.
Consolidated revenues grew 7 percent to PHP44.4 billion from PHP41.5 billion last year.
Leasing income posted an increase of 20 percent to PHP8.5 billion, while revenues from real estate rose by 3 percent to PHP32.8 billion.
"We are pleased with the company's 2019 performance as both our leasing and residential businesses provided steady growth," Vista Land Chairman Manuel B. Villar, Jr. said in a statement Thursday.
Villar said revenue growth from its existing investment properties of about 1.5 million square meters continued to be strong.
"In terms of our residential business, we have recorded reservations sales of PHP78.5 billion as well as launched projects mostly outside Metro Manila with an estimated value of PHP38.5 billion for 2019, composed of affordable housing and CoHo (condo homes) projects, our version of mid-rise buildings," he added.
The company's total consolidated assets as of 31 December 2019 stood at PHP272.5 billion compared to PHP238.2 billion last year.
Capital expenditures for the year amounted to PHP38.3 billion.
Manuel Paolo Villar, president and chief executive officer of Vista Land, said the start of 2020 has been challenging with the occurrence of a series of unforeseeable events, especially the coronavirus disease 2019 (Covid-19) pandemic.
"Vista Land will refocus on optimizing its existing portfolio of investment properties as well as utilize its current land bank of about 3,000 hectares. We saw that demand for affordable housing persists and homebuyers, most of which are end users, remain committed to completing payments. Vista Land also is taking advantage of its geographic reach. We have a presence in 147 cities and municipalities across the country and generate over 50 percent of our revenue outside Metro Manila," he said.
Vista Land intends to focus on the development of Communicities, an integrated urban development combining lifestyle retail, prime office space, university town, healthcare, themed residential developments and leisure components. (PR)