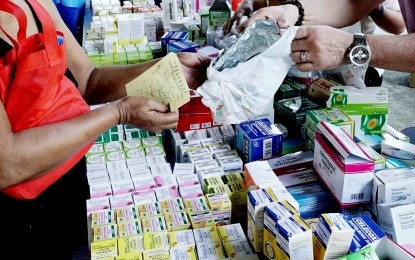 MANILA – Laban Konsyumer Inc. (LKI) has vowed to help the government in monitoring retail prices of drugs and medicines as Executive Order 104 regulating their prices took effect Tuesday.
"Laban Konsyumer will strictly monitor the full compliance of the maximum drug retail price and that consumers continue to have access to affordable and quality medicines," LKI president and founder Victorio Mario Dimagiba said in a text message Wednesday.
The new EO 104 "Improving Access to Healthcare through Regulation of Prices in the Retail of Drugs and Medicines" imposes maximum retail price (MRP) and/or maximum wholesale price (MWP) on 87 drug molecules or 133 drug formulas.
Price ceiling under MRP applies to retailers and customers, while MWP applies to wholesalers, distributors, or traders and retailers.
Under the new EO, medicine prices were reduced by as much as 50 percent.
Medicines included in the EO are those for hypertension, diabetes, chronic pain, asthma, chronic obstructive pulmonary disease, atherosclerotic cardiovascular diseases, and breast, lung, colorectal cancers, chronic kidney disease, psoriasis, and depression.
A week before the EO took effect, the Pharmaceutical and Healthcare Association of the Philippines (PHAP) appealed to the government to review the new policy, saying price control has not been effective based on global experience.
PHAP said the government stands to lose PHP28 billion in revenues as a result of price controls on medicines, which could be used in its fight against the coronavirus disease 2019 (Covid-19) crisis.
Meanwhile, Dimagiba lauded President Rodrigo Duterte and Health Secretary Francisco Duque III for continuing the implementation of the EO 104 amid calls to withdraw the policy.
LKI said consumers may report their complaints to the group through
[email protected]
.
(PNA)