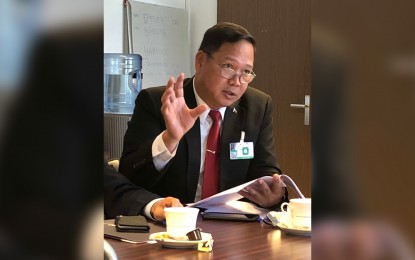 MANILA – As another member of the so-called "Morong 38" was buried Wednesday after being killed in an encounter with military troops, Southern Luzon Command (Solcom) chief, Lt. Gen. Antonio Parlade, Jr. took potshots at people who continue to claim that these individuals are just simple health workers and not hardcore terrorists.
Parlade was referring to "Moro 38" member Lorelyn Saligumba alias "Ploy"/"Fara", a political instructor of the New People's Army (NPA)'s Platun Dos, KLG ICM, Sub-Regional Military Area 4th Division, who was killed during an encounter in Baco, Oriental Mindoro on June 4.
Recovered from her possession were caliber .45 pistol, an improvised explosive device (IED), a Garmin GPS, 13 cellphones with text messages incriminating local officials, and containing Makabayan Bloc contacts, he said.
Also seized were subversive documents and paraphernalia of Anakbayan, Bayan, and other legal-front organizations, a Commission on Human Rights primer, assorted medicines, and acupuncture paraphernalia.
"What goes around comes around. So where are the people who claim that the Morong 38 are simple health workers and not (Communist Party of the Philippines) CPP-NPA terrorists? Where are the Kamatayan (Makabayan) bloc propagandists who hailed their release in 2011 by (then Justice) Secretary (Leila) de Lima as à victory for justice and the rule of law?" said Parlade, who is also a member of the National Task Force to End Local Communist Armed Conflict, in a statement forwarded to the Philippine News Agency Wednesday.
Saligumba, who was laid to rest in Sablayan, Occidental Mindoro, also has at least five pending murder charges.
"Also recovered was the AR-4 5.56mm rifle of Jessie Almoguerra alias 'CJ', 'Yam-ay' and 'Aja', Vice Platoon Leader of 'MRGU' who was wounded in his right thigh in that same encounter. Almoguerra's rifle belongs to Sgt. Malusalem Manlapaz who was killed during an encounter in Bulalacao on March 2017. In that encounter in Bulalacao, another 'Morong 38' (member) Lilibeth Donasco alias 'Mok' was also killed together with four other NPAs. This brings to 12 the total number of 'Morong 38' who were actually killed after they were released," he added.
He dubbed these terrorists "Morong 38" as five out of the original 43 earlier admitted their affiliation to the CPP-NPA.
"Tell me Glenda Gloria of Rappler, didn't I say in 2011, before I was sacked as Army Spokesman by PNoy (President Benigno S. Aquino III) that these NPA medics and bomb makers are not health workers? Where are the liars who rejoiced when these terrorists were released? Dr. Alex Montes? Dr. Merry Mia Clamor? Atty. Edre Olalia of NUPL (National Union of Peoples Lawyers) and the former chairperson Leila de Lima of CHR?" he said.
He also urged other supporters of these alleged health workers/NPA fighters on whether the AFP was wrong on its earlier assessment that these individuals are terrorists and that the recovered evidence, which includes IEDs, were only planted by authorities during their arrest in February 2010.
"Anong masasabi mo Ka Satur? Ka Sara Elago? Ka Caloy Zarate? Ka Inday Varona? Nagkamali ba ang AFP sa aming sinabi na Morong 38 ay mga terorista? 38 yan at hndi 43 kasi ang lima ay umamin na nga na sila ay teroristang NPA? Planted ba kamo ang mga bomba? Hayan, meron na namang dalang IED si 'health worker' Lorelyn. Nagkamali ba kaming sabihin na ang mga lider (Makabayan) Kamatayan bloc ay hindi mga terorista?" Parlade asked.
Loopholes
He also blamed loopholes in the Human Security Act (HSA) of 2007 that allowed these terrorists to be released then and laughed at the expense of the police and military personnel responsible for their arrests.
"Yan ang problema sa HSA of 2007. Pinagtawanan nyo lang ang mga pulis at AFP (Armed Forces of the Philippines) ng mapawalan ang teroristang 'Morong 38' dahil sila ay pawang mga aktibistang 'health workers'," Parlade said.
This, he said, is the reason why the proposed Anti-Terrorism Act of 2020 needs to be approved as soon as possible so that the government can crack down hard on terrorists masquerading as health workers and such.
"Ito ang dahilan kaya dapat isulong at maging batas na ang Anti-Terror Bill. Tapos na ang araw ng mga nagpapanggap na mga health workers. Tapos na ang araw ng mga nagpapanggap na Makabayan (bloc) This is the reason that that the Anti-Terror Bill should be passed. The days of pretension are over)," he added.
Parlade also urged genuine and patriotic activists to continue to seek legitimate reforms that will truly benefit the country and its people and reject the terrorism being espoused by the Makabayan bloc.
"Sa mga totoong aktibista na nagsusulong lng ng totoong reporma sa bansa, sabay sabay nating itakwil ang karahasan ng mga teroristang (Makabayan) Kamatayan bloc. Tayo ay tumiwalag na sa Makabayan bloc kung totoong katahimikan at reporma ang inyong nais. Ngayon na ang panahon para maghiwalay ang pula sa puti. Bago maging batas ang anti-terror bill, ipakita natin ang mga totoong makabansa," he added.
He added that now is the proper time for those professing to be real and patriotic activists peacefully advocating for change and those pretending to be such and yet actively pushing for violence and armed conflict.
"So Glenda Gloria, I don't care about your sophistication. I am not an elitist like you. My lens is simple enough even for elementary kids to view, because it is the young children aged 13 and above who are targeted by these terrorist recruiters and we want them protected. I don't care about your prose or if you graduated from London or where else, money or wealth is not my agenda. Sayang magaling ka sana but no wala kang pinagkaiba kay Ellen Tordesillas na isa pang nagpapagamit sa mga oligarkiya at propaganda bureau ng CPP," Parlade said.
The NPA, the armed wing of the Communist Party of the Philippines, is listed as a terrorist organization by the United Kingdom, the European Union, United States, Canada, Australia, New Zealand, and the Philippines.
"I cannot accept the way you vilify me and (Department of Interior and Local Government Secretary Eduardo) Año. Sorry PMA (Philippine Military Academy) English lang alam namin. Rappler's franchise and legal issues are not ours to fight about. At this critical juncture of our nation's historical fight against terrorism, I hope you will side with the truth and the winning side – the Filipino people," he added. (PNA)