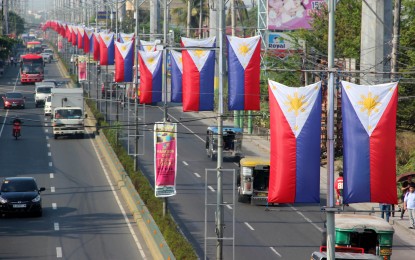 MANILA – The day the Philippines gained independence is the pinnacle of patriotism, and June 12 holds that symbolic sense of a truly independent Filipino nation.
More than half a century ago, Filipinos commemorated the declaration of Philippine independence on July 4, which is the same day as the American Independence Day.
However, it was only in 1962 that June 12 was declared as the country's day of freedom through a presidential proclamation issued by President Diosdado Macapagal. This change of date was further cemented through Republic Act No. 4166 in 1964.
Macapagal said the recognition of the independence of a nation should not be accorded by any other country but itself.
"It is proper that what we should celebrate is not the day when other nations gave recognition to our independence, but the day when we declared our desire to exercise our inherent and inalienable right to freedom and independence," Macapagal said in a 1962 public address on Independence Day.
Macapagal underscored that June 12, 1898 is the "true birthday of an independent Filipino nation" for it was on this day that the country showcased to the world its resolve to consider itself "absolved of allegiance to the Spanish crown".
It was during this time that President Emilio Aguinaldo proclaimed the independence of the Philippines from the Spanish colonial rule in Cavite el Viejo (Kawit), Cavite.
This event was also the first time the Philippine National Anthem was performed publicly and the first time the Philippine flag was displayed.
Macapagal said the proclamation of Philippine independence on June 12, 1898 gave colonial Asia its first free and united nation.
"There had been other Asian revolutions before. But the revolution which culminated on June 12, 1898 was the first successful national revolution in Asia since the coming of the West, and the Republic to which it gave birth was the first democratic Republic outside of the Western hemisphere," he said.
Kalayaan 2020: Towards a free, united, and safe nation
The National Historical Commission of the Philippines (NHCP), which leads the nationwide Independence Day celebration, branded the theme of the 122nd anniversary as "Kalayaan 2020: Tungo sa Bansang Malaya, Nagbabayanihan, at Ligtas".
As the country battles the coronavirus pandemic, NHCP said this year's celebration would be dedicated to the front-liners in this health crisis.
"Through their sacrifices of time, energy, expertise, and even their own lives, they strive to keep our nation safe," the NHCP said.
The NHCP urged people to display the Philippine flag in homes, offices, and other buildings.
"On Independence Day itself, we invite everyone to take pictures while holding a flaglet and a sign that says, 'Thank you, front-liners!'," it said.
"Through these simple acts, we can celebrate freedom even while staying at home. As we have said before, this pandemic will not stop us Filipinos from celebrating our freedom, a freedom won and defended by our heroes past and present," it added. (PNA)