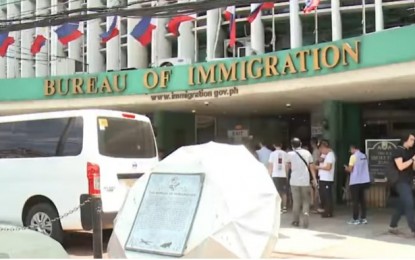 MANILA – The Bureau of Immigration (BI) has banned a Spaniard, whose encounter with Makati City policemen went viral on social media, from entering the country.
Immigration Commissioner Jaime Morente ordered the inclusion of Javier Salvador Parra, 49, last June 3 after it was confirmed that he did not return since he left the country three days after the incident that happened last April 26.
Parra had a violent altercation and eluded arrest by policemen who minutes earlier accosted his househelp for not wearing a face mask while outside their home in Dasmariñas Village.
"Now that he has been placed in our immigration blacklist he is now perpetually banned from reentering the Philippines for being an undesirable alien. Foreigners who disrespect our laws and persons of authority do not deserve the privilege to stay in our country," he said in a news release.
He said he issued the blacklist order against Parra to "serve notice and warn other aliens sojourning in the country that they should not flaunt our laws and insult our policemen who are merely enforcing our laws on those who violate it."
BI intelligence chief Fortunato Manahan Jr. said Parra departed last April 29 aboard a Qatar Airways flight to Doha en route to his final destination in Madrid.
He said Parra was allowed to leave since there were no formal charges yet that were filed against him in court or by the BI which was then investigating and building up a case against him.
Parra was reportedly given until May 21 to submit his counter-affidavit and the notice asking him to answer the allegations against him was served at his residence which he ignored, prompting the BI to charge him for deportation on the ground of undesirability.
"Even when he out of the country he could still file his answer to the allegations by engaging the services of a lawyer who could submit a counter-affidavit on his behalf. It was obvious that he really intended to disregard the notice by just ignoring it," Manahan said.
Viral videos showed that after the Makati policemen accosted the househelp, Parra went out of the house and confronted and hurled expletives at the lawmen.
The policemen attempted to arrest Parra but he managed to free himself and ran inside his house.
It was also reported that the police have filed separate criminal complaints about several offenses against the Spaniard before the Makati prosecutor's office. (PR)