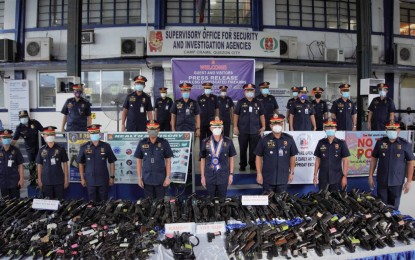 MANILA – The Philippine National Police (PNP) on Friday reported that it has confiscated over 500 unlicensed firearms during the first six months of 2020, amid the coronavirus disease (Covid-19) pandemic.
Based on the report of Civil Security Group - Supervisory Office for Security and Investigation Agencies (CSG-SOSIA), a total of 584 firearms were confiscated from the period of January to June, which is a 300-percent increase from 139 unlicensed firearms on the second half of 2019.
"Hindi naman nakakaalarma kasi hindi naman ito kaagad maka-categorized as loose firearms. Karamihan dito may mga kakulangan lang na documents kung bakit ito na-confiscate (This is not alarming though because these are not categorized as loose firearms. Majority of these only lack documents, thus they were confiscated)," Col. Sidney Villaflor, acting SOSIA chief, told reporters during the presentation of the firearms in Camp Crame.
Villaflor assured the public that their crackdown on illegal firearms would be relentless despite the pandemic.
"Tuloy-tuloy ang conduct namin ng inspection lalo ngayong pandemic (Conducting of inspection will continue especially now amid the Covid-19 pandemic)," Villaflor said.
He said an estimated 370 private security service providers (PSSPs) were involved in the recently confiscated firearms in Metro Manila.
In the speech of PNP chief Gen. Archie Francisco Gamboa, read by PNP deputy chief for operations, Lt. Gen. Guillermo Eleazar, the PSSPs and its personnel were urged to take heed on the rules and regulations of the security industry and based on various memorandums issued by SOSIA.
Eleazar said the aggressive campaign against unregistered guns and firearms with expired licenses from security guards and security and investigation agencies was based on the order of Gamboa to intensify the campaign against loose firearms.
"One firearm is too many if it lands on the hands of a person with a criminal mind. This is why we are serious in accounting all loose guns and firearms with expired licenses. This achievement shows the serious stance of the Philippine National Police in enforcing the law in line with our mandated task to maintain peace and order," Eleazar said, citing Gamboa.
In an interview, Eleazar warned the security agencies that they would face administrative cases for violation of the firearms rules under the existing laws.
The seized firearms will be subjected to further testing by the Crime Laboratory and Firearms and Explosives Office.
Eleazar also said police are checking the "Kambal Baril" scheme of some security agencies and security guards where weapons have the same serial number.
Eleazar said the scheme is usually done by unscrupulous security agencies to save money from firearms registration.
"This is tampering and this is illegal. If a security guard is found in possession of firearms with a tampered serial number, this is equivalent to illegal possession of firearms. We advise the security agencies and investigation agencies to follow the PNP rules and regulations to avoid trouble," said Eleazar.
Eleazar warned that cases could be filed against those possessing unlicensed firearms under Republic Act 10591 or the Comprehensive Firearms and Ammunition Regulation Act.
The CSG has also noted a spike in the number of people applying for registration of firearms, with over 300 a day.
Meanwhile, the CSG will also tighten screening and application procedures for security guards licenses after the three Daulah Islamiyah members -- Bensaudi Sali, Rasmin Hussin, and Jamal Kalliming -- who were killed in last week's operation in Parañaque City were found to be licensed security guards.
"We will be stricter in terms of requirements such as clearance from the Directorate for Intelligence, clearance from the National Police Clearance at NBI clearance among other things," Villaflor said.
Villaflor said the SOSIA found out that the latest approval of their licenses was two years ago and will expire by next year.
Authorities are checking how the suspects became licensed security guards. (PNA)