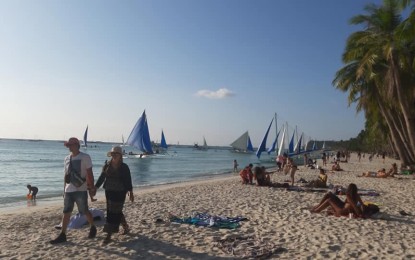 MANILA -- Several tourism industry leaders are calling on Congress to restore the PHP10 billion originally allocated for working capital loans in the reconciled Bayanihan 2 bills, which was realigned to infrastructure in the House version.
A joint statement read by Philippine Travel Agencies Association (PTAA) president Ritchie Tuaño on Wednesday underscored that infrastructure development can be delayed until the industry normalizes.
"While we agree that infrastructure development is vital to the tourism industry, we believe that the more urgent matter, at this point in time, is ensuring the survival of an industry on the verge of collapse due to the effects of the pandemic. We need direct infusion to the stakeholders in the form of zero to low-interest loans with longer payment periods to allow us to fully recover from the effects of Covid-19 (coronavirus disease 2019)," the statement read.
From January to July 2020, international visitors to the Philippines totaled 1,318,719 representing a decrease of 72.8 percent compared to 4,852,107 arrivals for the same period in 2019.
Visitor receipts for the same period amounted to PHP81.05 billion, marking a decrease of 71.5 percent compared to PHP284.82 billion last year.
Tourism Congress of the Philippines president Jose Clemente III said the industry is evidently one of the hardest-hit sectors in the pandemic.
"Some would think that we are exaggerating when we say that the industry is in the verge of collapse-- we actually are. Whether you are a big company or a small company were just all hanging on now and this is the only hope we see," he said, referring to the PHP10-billion budget supposedly for tourism loans.
Philippine Tour Operators Association (PHILTOA) president Cesar Cruz echoed similar sentiments as he called on the legislative branch to "save" the more than five million tourism workers and 500,000 enterprises depending on the eventual resumption of travel.
Data provided by the stakeholders showed that tourism had been a top contributor to the Philippine economy as it brought in over PHP3 trillion in revenues accounting for 12.7 percent to the GDP.
It also generated about 5.7 million tourism-related jobs in 2019 alone. (PNA)