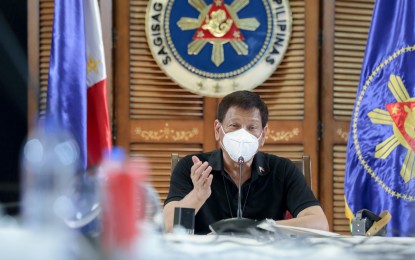 MANILA – President Rodrigo Duterte on Monday asked the Department of Justice to look into anomalies hounding the Bureau of Customs, noting that it is one of the "most corrupt" government agencies historically.
Duterte made this remark after BOC Commissioner Rey Leonardo "Jagger" Guerrero fired his own Chief of Staff, Teodoro Jumamil, due to allegations of corruption early this month.
"Okay, let me ask you this. This is a very troublesome office for all of us historically. Can we do it sa Customs?" he asked Justice Secretary Menardo Guevarra in a taped meeting with members of his Cabinet.
Guevarra had just finished giving updates on his agency's ongoing probe into massive corruption within the Philippine Health Insurance Corp. (PhilHealth).
Duterte vouched for Guerrero's innocence despite being accused of graft before the Office of the Ombudsman in connection with the alleged illegal designation of four persons.
"I can vouch na malinis ka (that you're clean). Problem is, do not entertain loyalties especially in government. If you think that idiot is going to destroy you, destroy him first," he said.
He, however, lamented about how it took Guerrero "a lot of seasons" before he decided to fire Jumamil.
"I told him to fire Jumamil. But it took him quite about a lot of seasons to do it," Duterte said, adding that he already told "Jagger or through somebody" that Jumamil has been working at the airport for so long "napaka-corrupt 'yan" (he's so corrupt)".
According to Duterte, Jumamil was working as a member of the Development Bank of the Philippines and at the BOC at the same time.
He added that Guerrero could have decided to keep Jumamil in his post because he was still new at the BOC.
"Maybe because Jagger was new at that time and he would need somebody to guide him to navigate through all of this hullabaloo sa (in the) Congress. Pero sabi ko si Jumamil, tanggalin mo 'yan kasi 'yan naglalaro 'yan matagal na (But I said fire Jumamil because he has been playing around for the longest time)," he said.
Duterte said he could not ignore how Jumamil thought he would be let off the hook for supporting him during his 2016 presidential campaign.
Last year, Duterte announced the dismissal of 64 BOC personnel amid concerns about an attempt to conceal alleged PHP1 billion worth of shabu in a shipment that arrived at the Manila International Container Port in January 2019. (PNA)