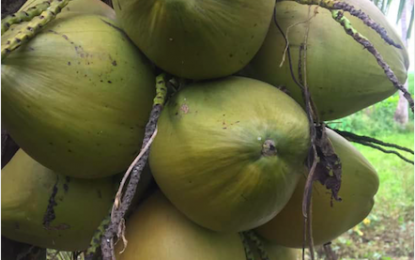 LAOAG CITY – The municipality of Pagudpud, known for its white-sand beaches, is shifting its foresight on agriculture with the development of a 500-hectare coconut plantation in that northernmost part of the province.
Backed by the Philippine Coconut Authority (PCA), in partnership with the Small Coconut Farmers Organization, town mayor Rafael Ralph Benemerito said Friday that the revitalization of the coconut industry in Pagudpud town hopes to uplift the living conditions of farmers which have been left behind in previous years.
"The pandemic (Covid-19) made us realized that agriculture is left behind. As you can see, the agriculture sector is the only sector that never stopped so we need to boost agriculture among other else," Benemerito told farmers who attended the launching program attended by representatives from the PCA and the Department of Environment and Natural Resources.
Dubbed as the "tree of life", the demand for coconut products is attributed to the versatile nature of the plant, every part of which has practical uses from roots to tip.
In Pagudpud, the PCA, an agency under the Department of Agriculture, is taking the lead to plant hybrid coconut that has the potential of yielding 150 nuts per year.
The hybrid coconut could also yield up to 300 nuts per year by augmenting hybrid technology with good agricultural practices. A nursery is in place in Barangay Caparispisan where coconut farmers get their seedlings to be planted in the different villages.
The PCA is spearheading the planting of more coconut trees nationwide as part of the country's poverty alleviation program.
According to the PCA, it takes three to four years for hybrid coconut trees to bear nuts, hence the agency is also recommending intercropping method by planting bananas to increase the earnings of coconut farmers. (PNA)