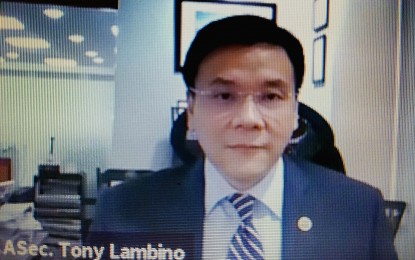 MANILA – A ranking Department of Finance (DOF) official on Friday said the agency is supporting the PHP140-billion Bayanihan 2 over the other proposed stimulus packages, noting the "amount is something that the government can execute".
"The PHP140 billion already took into account, looking for sources of funds that could be put together and that could actually be delivered. That is critical because if not, that is an unfunded mandate," Finance Assistant Secretary Antonio Joselito Lambino II said during the virtual briefing of the Shareholders' Association of the Philippines (SharePHIL).
The second factor for this is related to fiscal responsibility, he said.
Lambino said the government cannot just borrow, as some sectors suggest, more than what is allowed under the 2020 national budget.
"So the supplemental appropriations require new or additional revenue. And we just don't have that given the situation that we're in. We can't borrow our way out of that hole," he said.
Lambino said the Bayanihan 2, which is now awaiting the signature of the President, has several components such as cash subsidies and budgetary support for the health sector, as well as the government financial institutions (GFIs).
He added about PHP30 billion to PHP40 billion has been allocated under the Bayanihan 2 for the Financial Institutions' Strategic Transfer (FIST) bill, and the Government Financial Institutions Unified Initiatives to Distressed Enterprises for Economic Recovery (GUIDE) bill.
Lambino said the amount allotted for these two measures has up to 20 times multiplier effects if the support extended to troubled firms are guaranteed by Philippine Guarantee Corporation (PHILGUARANTEE).
"The economic team is very insistent that those appropriations be made through the GFIs so that there are multiplier effects in combination with the other reforms," he added. (PNA)