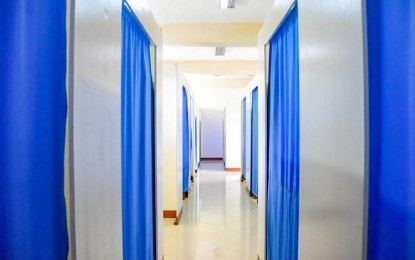 TACLOBAN CITY – The PHP7.38-million isolation facilities in Biliran province are now used by confirmed patients with coronavirus disease (Covid-19), the Department of Public Works and Highways (DPWH) said on Saturday.
DPWH-Biliran chief David Adongay said these facilities in the villages of Agpangi and Larazzabal, both in its capital town of Naval, can accommodate up to 68 patients.
"In Agpangi, we converted an existing evacuation center into an isolation facility. It has 28 divisions to accommodate a maximum of 28 patients. Each isolation room will be provided with a bed, side table, chair, and cabinet," he said in a press statement.
Outside the facility, a separate room for decontamination, donning of personal protective equipment, and triaging was constructed, including two sleeping quarters, each room with two beds for male and female medical workers.
"We also provided additional comfort rooms in the facility," Adongay said.
In Larazzabal, the DPWH has set up 15 isolation tents that can accommodate 60 patients.
Each tent has four divisions with individual tables, chairs, cabinets, and stand fans.
"We will also set up separate tents for decontamination and disinfection, donning and doffing of PPE (personal protective equipment) sets, triage area, kitchen area, camp management area, and two sleeping tents, one each for male and female medical workers. Two additional concrete comfort rooms will also be constructed," Adongay said.
The DPWH field office completed the construction of both facilities in the second week of August.
To date, Biliran has confirmed a total of 72 Covid-19 cases, including 54 recoveries and one death in Kawayan town, based on a consolidated report from its local health offices.
The latest data from the Department of Health showed Eastern Visayas has recorded a total of 2,727 cases, with 1,579 recoveries and 16 confirmed deaths. (PNA)