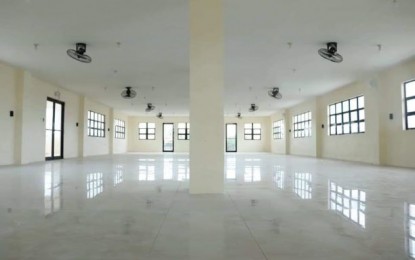 BACOLOD CITY – The Department of Public Works and Highways (DPWH) has allotted PHP4 million to repurpose the regional evacuation center (REC) here into a 45-cubicle isolation facility for asymptomatic and mild coronavirus disease (Covid-19) patients.
As of Wednesday, the project is part of the 109-bed healthcare facilities identified by the DPWH for construction in Bacolod.
In a statement, Mayor Evelio Leonardia said he has agreed with the agency to proceed with the project, and the city government will facilitate the provisions for water and power supply to the facility.
"The DPWH will fund the repurposing works since the evacuation center has not yet been officially turned over to the city," he added.
Leonardia said he pointed out to DPWH-Western Visayas regional director Lea Delfinado that a roofed walk has to be built to connect the evacuation center to the comfort room outside the building.
The city government plans to build more comfort rooms since these amenities were not built into the center's design, he added.
The PHP33.7-million evacuation center in Barangay Vista Alegre has a two-storey main building, which can accommodate at least 300 evacuees needing temporary shelter in times of calamity or disaster.
Inaugurated in February, the facility stands on a 3,000-square meter property in the Progreso Village relocation site owned by the city government.
Aside from the accommodation building, it also has an office and infirmary building, laundry/drying area, toilet and bath for both male and female, pump room, generator room, and materials recovery facility.
In Bacolod, the DPWH Task Force to Facilitate Augmentation of National and Local Health Facilities is also building a 32-bed isolation facility in Barangay Alijis and a 32-bed off-site dormitory inside the Corazon Locsin Montelibano Memorial Regional Hospital compound. (PNA)