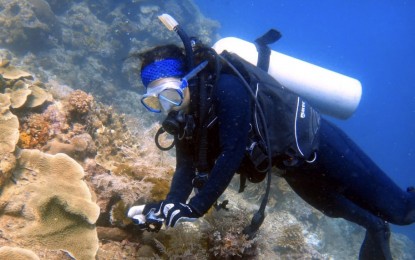 LAPU-LAPU CITY, Cebu – The Tourism, Cultural and Historical Affairs Commission (TCHAC) will join the observance of the 35th International Coastal Cleanup Day on Saturday through the "Scubasurero 2020," a move that is also aimed at reviving the tourism industry in the locality.
Scubasurero literally means scuba divers collecting "basura" or trash underwater.
The TCHAC announced there are at least 200 pre-registered divers to be deployed in the 14 different dive sites in Lapu-Lapu City (six barangays in the Mactan mainland and eight barangays in the neighboring Olango Island) for a simultaneous underwater cleanup on Sept. 19, in line with the International Coastal Cleanup Day every third Saturday of September celebrated annually worldwide.
Mayor Junard "Ahong" Chan, together with the TCHAC chairperson, Cindi Chan, and TCHAC commissioner Sunshine Lim, are gearing towards this underwater cleanup dive to 14 areas, mostly marine sanctuaries.
The city government will provide logistics support for the activity, food and water for the participants, and diesel for the motorboat owners who will volunteer their time and effort to support this cause.
Each motorboat will have 10 divers onboard during the event.
Belle Chua, a CMAS scuba diving instructor who is set to join the undersea clean-up dive, on Friday said the city's Marine Sports and Boat Operators Association Inc. has found generous sponsors for the scuba tanks, and the scuba divers will bring their own equipment.
"Nature can heal itself but climate change has long been here, the inconvenient truth that we need to address. We need to take care of our ocean, we need clean seas for sustainability and preservation of our marine resources," Chua said.
She said scuba divers "can do so much" in helping preserve the environment especially the ocean.
The cleanup activity also aims to encourage local residents to clean their surroundings and not to throw garbage to the sea, Chua said. (PNA)