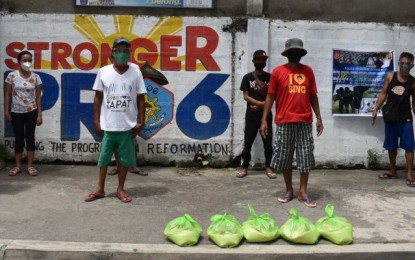 BACOLOD CITY – The Bacolod City Police Office (BCPO) has established a food bank for emergency situations amid the coronavirus disease (Covid-19) pandemic.
Lt. Col Ariel Pico, public information officer of BCPO, told the Philippine News Agency on Thursday that the supplies are for the less-privileged families assisted by their personnel in times of calamities or disasters.
"This is also in response to the directive of our new Philippine National Police chief, General Camilo Pancratius Cascolan," he added.
To date, the BCPO Food Bank inside the headquarters has 14 sacks of rice, two boxes of canned goods, and four boxes of instant noodles gathered through donations.
Pico said as the Covid-19 crisis continues to bring physical, emotional, mental, and financial burden to Filipinos, there is a need for people to help each other.
"The Bacolod Police promises to be the best helping hand in the delivery of services to the public," he added.
So far, the BCPO has distributed food packs to tricycle drivers from Barangay Singcang-Airport and Barangay Taculing, where the city police headquarters is situated.
"With the help of donors and stakeholders, more of these food packs will be given to the most-affected individuals," Pico said. (PNA)