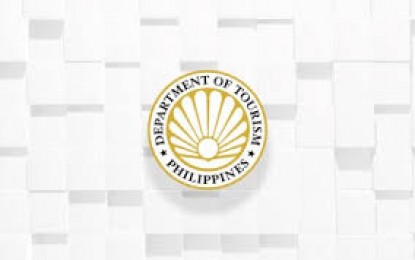 LEGAZPI CITY – The Department of Tourism (DOT) in Bicol on Friday said over a hundred tourism sites have been opened in the region after it was placed under the modified general community quarantine (MGCQ) classification.
Fe Buela, DOT officer-in-charge, in an interview said by placing the region under MGCQ, the Bicol Inter-Agency Task Force for the Management of Emerging Infectious Diseases (IATF) has lifted travel restriction, allowing only domestic visitors to engage in local travel tours.
Buela said 104 sites across the region were opened including beach resorts, island destinations, natural tourism areas (mountain, waterfalls, and river cruising), cultural and historical places and landmark sites.
She said those tourism sites allowed to operate were directed to strictly enforce the minimum health requirements by the IATF including the wearing of face mask, face shield, washing of hands, and physical distancing.
Visitors would also be required to book on-line three days before their expected arrival and to present a travel pass, medical certificate, and swab test result.
The DOT said to recover the multi-million economic impact on the local tourism industry by the coronavirus disease (Covid-19) crisis, it has also heightened promotion of agri-tourism.
Bicol currently has 16 farm sites which highlight agricultural products, research developments, farm exhibits, and farmers' training.
Among the farm sites opened for travel tours are the Hibiscus Trekker's Camp in Tigaon town, Inarihan Farm Resort in Naga City, LRV-Agri Science Far in Calabanga, MikeLiz Integrated Farm also in Calabanga, Sonrisa Farm in Magarao, AO Techno Science Park @ OADP at the Central Bicol State University of Agriculture in Pili, all in Camarines Sur.
In Albay, opened were the Aguas Farm in Sto. Domingo; Albay Farmer's Bounty Village, Elmiro De Shei Integrated Farm, and Solong Eco Park and Tours, all in Camalig; and Villa Miranda Farm and Resorts in Libon.
In Sorsogon, now open to visitors are the Balay Buhay sa Uma Bee Farm in Bulusan and Barcelona Agrihope Tourism Farm in Barcelona.
In Masbate, opened were the Casa Eduardo Agri-farm Resort in Claveria, and Uma Koinonia in Masbate City.
In Camarines Norte, on the other hand, JSMS Organic Farm and Agribusiness in Jose Panganiban have been allowed to accept visitors.
Meanwhile, under the Bayanihan to Recover as One Part 2, the DOT has earmarked a PHP10-billion fund to finance various recovery programs to assist the industry stakeholders.
Of the fund, PHP6 billion would be used as grants and loans to medium and small enterprises; PHP3 billion as financial assistance to displaced workers; and PHP 1 billion for the Tourism Road Project, which has 36 projects in Bicol. (PNA)