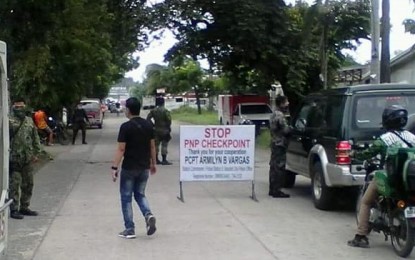 BACOLOD CITY – The Bacolod City Police Office (BCPO) assessed the peace and order situation here as "generally peaceful" going into the final week of the modified enhanced community quarantine (MECQ) set to end on September 30.
As of Friday, it reported 132 persons arrested for violating the curfew since Sept. 18 but no major crimes were monitored since stricter quarantine measures were imposed in the past two weeks.
"We have not encountered major problems," Lt. Col. Ariel Pico, public information officer of BCPO, said in a phone interview.
Pico added that although personnel of the 10 police stations continue to apprehended violators of home quarantine pass (HQP) system and curfew hours, the numbers are not alarming.
During the MECQ, which started on Sept. 8, the BCPO has set up some 35 checkpoints across the city, including those along the borders of the cities of Bago and Talisay, and Murcia town.
In Bacolod, leisure travelers are prohibited and border control is imposed while the city is under MECQ, with curfew hours set from 10 p.m. to 4 a.m. of the following day.
The establishment of checkpoints at the borders and within the city aims to enforce the HQP system and to regulate the entry/exit of Bacolod residents and out-of-towners to stem the local transmission of coronavirus disease (Covid-19).
The odd-even scheme allows holders with passes ending in the odd numbers – 1, 3, 5, 7, 9 – to leave their houses and use the HQP on Mondays, Wednesdays, and Fridays while those with HQP ending in the even numbers – 2, 4, 6, 8, 0 – are allowed to leave their homes on Tuesdays, Thursdays, and Saturdays.
During Sundays, HQP holders are not allowed to leave their houses. The HQP cannot also be used as a travel pass through other towns and cities outside of Bacolod. (PNA)