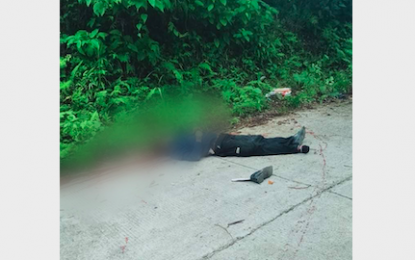 MANILA – An indigenous peoples (IP) leader and two other companions were killed on Sunday afternoon in an ambush by suspected communist rebels in Lianga, Surigao del Sur.
Initial report from the National Commission on Indigenous Peoples (NCIP) said Datu Hawudon Jumar Bucales, of the Manobo tribe, along with seven others were reportedly traveling to Brgy. San Isidro when they were allegedly ambushed by around 20 fully armed men believed to be members of the Communist Terrorist Group-New People's Army (CTG-NPA) at around 1:30 p.m.
The report added that also killed in the ambush were Alberto dela Peña and Artemio Moldes, both members of the Manobo tribe, while two others identified as Ronald Acevedo and Oluver Rosaldo were wounded.
Bucales is the Indigenous People Mandatory Representative (IPMR) of Lianga, Surigao del Sur.
He supported the passage of the Anti-Terrorism Act of 2020, saying it will help IP communities ward off continuing harassments, extortion, and killings perpetrated by communist rebels.
Bucales previously released statements against the NPA and other party-list groups and led the closure of Lumad schools in Surigao del Sur.
Last month, he and Datu Rico Maca challenged Bayan Muna Party-list Rep. Eufemia Cullamat to go to Surigao del Sur and conduct an investigation on the killings done by the NPA to the members of her tribe.
Bucales joined NCIP Chairperson Allen Capuyan and NCIP 13 Regional Director Marlon P. Bosantog in the inter-agency visits of IP communities in Region 13 last August and September.
He also joined the opening ceremony of the Department of Education schools that replaced lumad schools and the Tribal Filipino Program in Surigao del Sur, which he personally dismantled and closed in 2017.
Last Saturday, a relative of Datu Rico Maca, also one of NTF-ELCAC's supporters, identified as Ariel Guinsod Maca, was also killed.
These are already the 11th and 12th IP killings by the suspected NPA rebels in San Miguel, Surigao del Sur since March this year. (PNA)