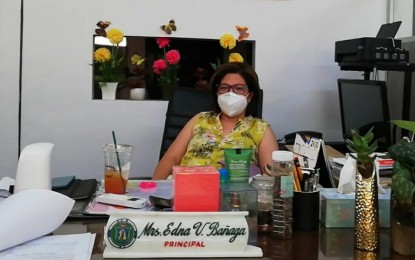 MANILA – Saying that school year 2020-2021 is a big challenge for all stakeholders is an understatement.
In the midst of a raging pandemic, the government and all other stakeholders are scaling up efforts to ensure that children continue with their studies.
For starters, teachers were given trainings on how to discuss their lessons using the limited time effectively and efficiently during online classes, a daunting task due to internet connectivity issues in the country.
For students, it's a struggle whether their chosen system is through printed modules, blended learning, or online class.
Other pressing issues include the volume of transferees from private schools and the lack of teachers that will take this additional task.
Filling the gap
Mrs. Edna V. Bañaga, principal at the San Francisco High School (SFHS) in Quezon City, said they continue to accept late enrollees because there are private schools near SFHS which announced their decision not to operate for this school year late.
From around 6,200 students in SY 2019-20, SFHS has around 8,955 enrolled students as of Sept. 25.
"That's why we are also looking for teachers who will fill this gap," she told the Philippine News Agency.
While this has been a problem in the past, its enormity is significant now given the surge in the number of students in public schools.
Bañaga said while there are teacher-applicants for this school year, their number is not enough because of the spike in the number of students.
"So we are encouraging those (teachers) from schools that closed to apply," she said.
As of last school year, SFHS has around 220 teachers.
Bañaga said the SFHS has 30 vacant teaching positions but only five has been filled up so far, due in part to the community quarantine that the government is implementing.
Preparedness
With school opening finally pushing through on Oct. 5, Bañaga said they have readied their teachers and students -- with dry run of classes done before the supposed Aug. 24 opening as well as last week, from Sept. 28 to Oct. 2.
Books have also been distributed last week.
However, the distribution of tablets that the local government unit (LGU) will lend to students enrolled in online classes will only start on Oct. 6.
Bañaga said the distribution of tablets will be done for about a month to limit the number of persons in the school compound, in line with the government's health protocols.
She said about 8,031 of their students availed of the tablets while the others preferred not to borrow tablets or have chosen the printed module.
Overall, she said they are ready for the school year since they have prepared both the teachers and the students.
"I think, basically, we're ready. We're just preparing for the Oct. 5 opening with the prayer that internet connection will not give up on us," she added. (PNA)