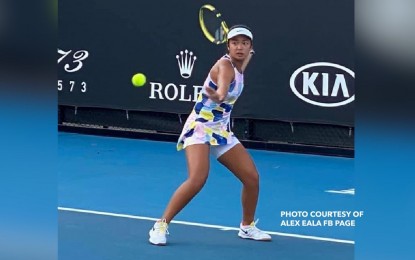 MANILA – Alex Eala's campaign in the French Open went off to a good start on Sunday, beating Natália Szabanin in straight sets, 6-4, 6-1, at the Roland Garros Stadium in Paris.
The Filipina teen sensation, seeded second in the girls' division, recovered from a bad opening before dominating her unranked foe from Hungary.
Szabanin seemed poised for an upset, beginning the match with four straight games won and coming just two wins shy of sweeping Eala in Set 1.
Eala, however, won the next nine games to not just steal Set 1 but also take a 3-0 lead in Set 2.
After Szabanin won Game 4, Eala took the next three games in the second set to clinch the match.
Eala, the world ranked number four in juniors play for girls, will next face Mara Guth of Germany in the second round.
Guth downed Sarah Iliev of France in straight sets, 6-4, 6-3.
Eala was placed in Section 4 alongside three more seeded players.
However, two of them already got the boot in Round 1.
Seventh seed Maria Bondarenko of Russia fell to unseeded Tara Wurth of Croatia, 7-6, 4-6, 5-7, while 12th Alexandra Yepifanova of the United States lost to Linda Noskova of Czech Republic, 3-6, 6-4, 4-6. (PNA)