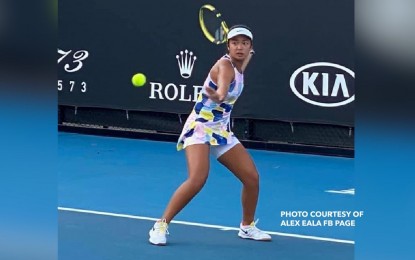 MANILA – Alex Eala is through to the quarterfinals of the French Open's girls division after defeating Leyre Romero of Spain, 6-1, 4-6, 6-1, at the Roland Garros Stadium in Paris on Wednesday.
The 15-year-old Filipina sensation bounced back from a shock first-round exit in doubles play to move to within three wins from taking her first Grand Slam championship.
Eala was on course for domination after taking Set 1 in style.
However, Romero recovered in a hard-fought Set 2, setting up the deciding third.
Eala then made sure she will not be denied in the final set with another dominating performance.
Eala will now face Linda Noskova of the Czech Republic in the Final 8.
Entering the tournament unranked, Noskova already took down a top contender, beating 12th seeded Alexandra Yepifanova of the United States in the first round.
Noskova edged Flavie Brugnone of host country France, 6-1, 6-2, in the third round to set up a date with Eala.
Eala, seeded second in the French Open, is the highest-ranked player left in the running after top seed Victoria Jimenez Kasintseva of Andorra, lost in the second round to unranked Alina Charaeva of Russia.
Charaeva downed Italy's Matilde Paoletti, 6-3, 6-1, in Round 3 to enter the quarterfinals too, where Germany's Alexandra Vecic, 2-6, 6-1, 6-4 winner over Russia's Oksana Selekhmateva, awaits her. (PNA)