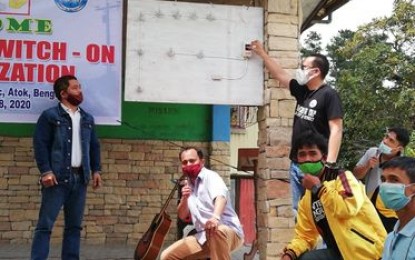 ATOK, Benguet – There is no place so far away from the government's goal to bring electricity to far-flung communities.
A total of 17 household beneficiaries were elated when the Benguet Electric Cooperative (Beneco) switched-on the power for Sitios (sub-village) Poshongan and Telmod in Topdac, this town on Thursday.
Some of the 106 learners enrolled at Topdac Elementary School who reside at the two sitios will also benefit from the government's sitio energization program thru the National Electrification Administration (NEA) that was implemented by Beneco in its franchise area in Baguio and Benguet.
A total of 1.5 kilometers of primary lines and three kilometers of secondary lines amounting to PHP1.87 million and house wiring worth PHP86,635 were spent to complete the program.
Engr. Melchor Licoben, OIC General Manager of Beneco, said PHP12 million more is needed to fully energize the town of Atok.
Licoben said for the year 2020, the town was allotted PHP5 million under the sitio energization program for seven areas but the fund was among those reverted to the national treasury for the government's coronavirus disease 2019 (Covid-19) response.
Licoben said the NEA has assured that the same fund will surely be given in 2021.
"Electricity is a catalyst of development which allows residents to come up with economic activities," he said.
He added that Atok has received PHP32 million since the government came up with the sitio energization program in 2011.
Victoria Tigmayao, 73, of Sitio Lower Abiang, one of the beneficiaries of the new electric line, said she grew up using petroleum and candle in illuminating the surroundings at night.
"(Now), we will no longer grope in the dark at night," she said.
Mayor Raymundo Sarac, during the simple program, said there are still several requests for energization.
"We hope that the whole municipality will be electrified soon," he said.
He added that with electricity reaching far-flung areas, not only development will happen, but commission of crimes will also be avoided.
This town is located about two hours drive from Baguio City. It is the second source of highland vegetables after Buguias town. It is also a source of beautiful and exotic flowers, with tourists visiting the famous "Sakura farms" and the "Northern Blossoms". (PNA)