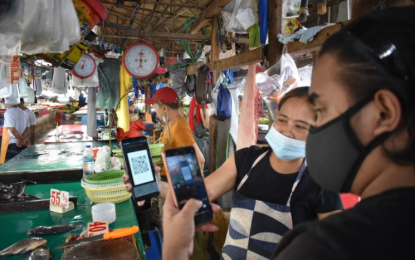 MANILA – The Litex Market along Commonwealth Avenue in Quezon City may not yet have the facial lift it deserves but its vendors have already upgraded their system to catch up with the times as they embraced digital payment for a more convenient transaction.
Diskartech, an app of the Rizal Commercial Banking Corporation (RCBC), is being used by 197 of 200 vendors in Quezon City's 'biggest wet market', the bank's executive vice president and chief innovation and inclusion officer Lito Villanueva said in a statement over the weekend.
"Most of them are challenged in terms of language and identity verification and they feel that the existing financial apps are not made for them. That is why RCBC introduced Diskartech to fill in this gap," Villanueva added.
The bank executive explained that the workers in the public wet market are among the 70 percent unbanked and underserved sectors in the Philippines.
RCBC said it has showcased its robust performance in making members of grassroots communities a priority in their vision of financial inclusivity by incorporating benefits enticing for the masses.
A Diskartech user can earn 3.25 percent interest per annum on savings in the app.
The digital bank also does not require a maintaining balance unlike a regular bank account, Villanueva said.
Other services include bills payment, prepaid smartphone loading, money transfers, insurance, telemedicine, and more.
Shortly after it was launched in July this year, the Department of Social Welfare and Development (DSWD) tapped the Diskartech App along with five other financial service providers (FSPs) to aid in the second tranche of distribution of the government's social amelioration program (SAP 2).
Diskartech has recorded more than 3 million downloads since and garnered three global awards in three months during the pandemic alongside being recognized as the Philippines' best digital bank.
Along with GCash, PayMaya, StarPay, and Robinson's Bank, the FSPs have helped introduce digital banking to the 14.1 million low-income family beneficiaries of SAP 2 who are also identified as among the "unbanked and underserved" Filipinos.
As of Oct. 15, the department has reached 13.98 million family beneficiaries with PHP83.5 billion.
The "Bayanihan to Heal As One" Act has given the national government powers to provide emergency subsidies to low-income families.
The Joint Memorandum Circular No. 1 of 2020 states that the subsidy shall amount to a minimum of PHP5,000 to a maximum of PHP8,000 a month for two months to provide for basic food, medicine, and toiletries. (PNA)