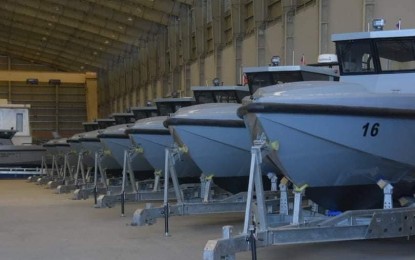 CEBU CITY – The Philippine National Police (PNP) has acquired 22 new high-speed tactical watercraft manufactured by a shipbuilding firm in Danao City, northern Cebu.
Police Regional Office (PRO7) Director Albert Ignatius Ferro said in a press conference on Monday that the high-speed watercraft will further enhance maritime law enforcement, ensure public safety and internal security over Philippine territorial waters and rivers, and sustain the protection of the maritime environment.
He added that these are also crucial to the country's efforts against drug smuggling and threats of terrorism.
Of the newly-acquired boats for the PNP's Maritime Group, two are for Cebu, Ferro said.
"We need to reinforce our coastal defense system and our security measures in Cebu and Bohol especially that tourism is slowly being reopened," he said in a mix of English and Cebuano.
Each boat is powered by three outboard motors and able to reach speeds of more than 40 knots. It will be armed with 7.62 mm machineguns and/or automatic grenade launchers, PRO7 said in a Facebook post.
According to Ferro, the boats are made by Danao-based Dynacast Shipbuilding and Repairs Inc.
Ferro personally inspected the newly manufactured boats last Oct. 15.
"Some materials (of the boats) are imported but the engineering and craftmanship are made by Cebuanos. They are really good," he said. (PNA)