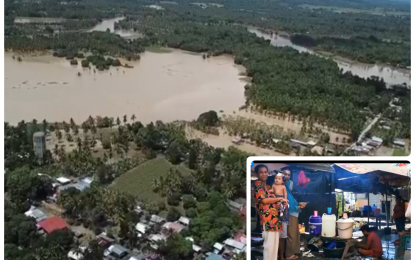 PAGALUNGAN, Maguindanao – More than 10,000 residents here were displaced by flash floods that hit this low-lying town on Tuesday.
The affected residents are now staying in temporary shelters along the national highway. Floods are recurring occurrence every time a heavy downpour spawned by a low-pressure area affects eastern Mindanao.
Pagalungan sits beside the Liguasan Marsh, a vast wetland encompassing the three provinces of Maguindanao, North Cotabato, and Sultan Kudarat. The marshland also serves as a "catch basin" of floodwaters from the Agusan and Kabacan rivers traversing the area.
"This is the worst flooding that I have experienced in my life here in Pagalungan," Mayor Salik Mamasabulod of Pagalungan said in an interview Tuesday afternoon.
He said 11 of 12 barangays in Pagalungan have been underwater for the past four days now.
"It's not deep but the water did not recede quickly as compared to previous floods," Mamasabulod said, adding that they need immediate flood control projects with the help of both regional and national government.
The Ministry of Agriculture, Fisheries and Aquatic Resources in the Bangsamoro Region in Muslim Mindanao reported that the floods have affected more than 200 hectares of land.
Food packs and safe drinking water with medicine have been pouring in for the displaced families from the BARMM government.
Despite the difficult situation, schoolchildren in Pagalungan continue their studies in their "makeshift homes," Vice Mayor Abdillah Mamasabulod said.
"Modular learning continues even in evacuation sites, this is good because the education of our children was prioritized by their parents," he said.
But life is hard for a Pagalungan resident who claimed she had been in the same situation many times in the past.
"I think more than a dozen already," Myrna Samadudin, 40, said in vernacular during an interview beside her shanty along the Cotabato-Davao highway.
She noted that every time there is a typhoon and strong rains, the water level in Pagalungan will rise a few days later.
"That is why our valuables are already in the bag ready to move in case of emergency," she said, pointing to her clothes and other valuables in piles of sacks ready for hauling.
BARMM Chief Minister Murad Ebrahim has mobilized all concerned regional government agencies to attend to the needs of affected families while directing the BARMM's public works ministry to find ways how to prevent flooding in low-lying towns in Maguindanao. (PNA)