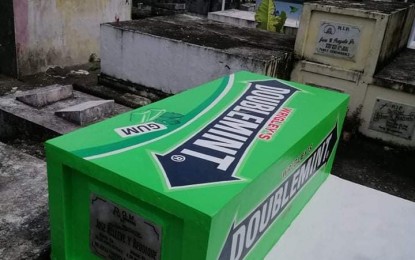 LEGAZPI CITY – The coronavirus (Covid-19) pandemic has failed to stop an almost a decade-old family tradition in Oas, Albay during All Souls' Day, dubbed as grave "branding".
Angel Roa Relleve, a nurse assigned in Metro Manila, said in an interview on Thursday that they continued their tradition of painting their late father's tomb to make it appear like his favorite brands of consumer items such as shoes, clothing, and food.
She said they have a good painter for this purpose and this year, he painted the tomb of their late patriarch, Jose Reodique Relleve, to make it look like his favorite "chewing gum".
"This year 2020, as we commemorate the All Souls' Day in advance, our gift for him is to paint in his tomb his favorite chewing gum," Angel said.
She assured that their family observed all the safety and health protocols mandated by the government in visiting their father's grave.
"All Souls' Day is a part of Filipino tradition remembering our departed loved ones. But at this present time that we are all facing a global pandemic and we have to be responsible individuals in our community. We really have to follow the government's order that all of us will benefit from for the sake of the community and our country," Angel said.
Being a front-liner herself in the fight against Covid-19, she reminded the public to visit their departed family members' grave in advance or after All Saints' and All Souls' Days as ordered by the government to prevent crowding in cemeteries and preventing the spread of the Covid-19 virus.
"We need to practice or exercise safety measures in order to prevent the spread of Covid-19 in our community by wearing face masks/shields and observed social distancing," she added.
Angel said her father, who died in 2011, was a government employee. "We remember him as a jolly, joker, and loving, though (a) disciplinarian father," she recalled.
"I still remember when I was young, my youngest sister and I were always excited for our Dad to come home from work. I think that's normal. Iyan na si Papa..dali. Pa bias tabi! (Our father is here. Come faster. Let's greet him!)," she narrated.
Angel said their favorite thing to do after their father arrived from work was to "raid" his bag for candies, peanuts, and chewing gum.
She admitted that although their grave branding tradition has been drawing attention from people, they would sometimes laugh and make fun of their father's tomb.
"We don't mind them. We just shrug our shoulders. What we want is a unique way of remembering our departed father. We really find joy to do it as we long found it most fitting to his character while he was still with us. This branding tradition will always leave a lasting imprint of his memories to our family," she said.
Their family tradition, she said, is their own way of paying tribute to their loving patriarch.
"So, guys, love your father while they are still alive. Remember, to lose your father means loss of the one whose guidance and help you always seek, who supports you like what the trunk of a tree does to its branches," Angel said. (PNA)