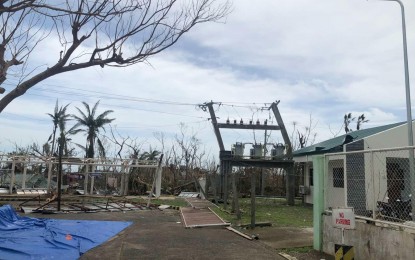 MANILA – The national government, alongside telecommunication companies, have ramped up efforts to immediately restore telco lines and power in Catanduanes after cellular signals and telephone lines were cut following Super Typhoon Rolly's onslaught.
"The representatives of giant telcos [Globe and Smart] are part of our disaster planning for Typhoon Rolly. In my engagement with them earlier this morning, they are already doing something about the immediate restoration of telcos services in Catanduanes," said Undersecretary Ricardo B. Jalad, OCD administrator, during the virtual press briefing with Presidential spokesperson Harry Roque on Monday.
Jalad said various teams are already prepositioned in typhoon-hit areas for communication and line restoration in Catanduanes.
The Office of the Civil Defense (OCD)-Rapid Emergency Telecommunications team has established a communication signal using the 'Very Small Aperture Terminal' (VSAT), a satellite communications system, to communicate with the Catanduanes provincial government.
Catanduanes Governor Joseph Cua requested the national government to help the province in restoring destroyed telco services to allow the residents to communicate with their families outside the typhoon-hit areas.
"We are requesting telco companies to immediately restore their services so that the families of the Catanduanes residents residing in Metro Manila or abroad could contact them during the typhoon," Cua said in Filipino.
Jalad said the national government has deployed officials in Catanduanes to conduct an immediate damage assessment, identify priority needs and augment the resources as well as response operations of the local government units (LGUs) in Catanduanes.
Jalad said the Department of Social Welfare and Development (DSWD) will be providing more relief assistance in the Bicol Region by Tuesday, while a C130 flight for Catanduanes will be dispatched to provide food packs and potable drinking water to the typhoon-hit residents.
"We need to identify the other needs of the disaster response in Catanduanes which cannot be provided by the local government unit of Catanduanes and their municipalities, that can be sourced from the regional or national government agencies of the NDRRMC [National Disaster Risk Reduction and Management Council]," Jalad added.
Meanwhile, Cua said they utilized safely-located public schools in the province as evacuation centers, to move residents living in coastal towns and low-lying areas prone to storm surge, landslides, and flooding.
Cua said the provincial government has so far recorded around five casualties and four injured since the typhoon hit Catanduanes.
He said 80 percent of electric posts, transformers and other electric facilities manned by local cooperatives have been destroyed due to the typhoon.
Cua said an estimated 15,000 families were affected by storm surges.
According to Cua, many roads in around 11 towns in Catandanues remain impassable as of this posting.
Meanwhile, Department of Energy Undersecretary Felix Fuentebella assured that all energy-related assistance will be provided for Catanduanes province.
Fuentebella said the department's Task Force 'Kapatid' has already revved up efforts for disaster response deployment prioritizing assistance for Catanduanes, Albay, Camarines Sur, and other areas in the Bicol Region.
Typhoon Rolly (international name: Goni) has also affected the regions of Ilocos, Cagayan Valley, Central Luzon, Calabarzon, Mimaropa, Western Visayas, Eastern Visayas, Zamboanga Peninsula, Cordillera Administrative Region, and the National Capital Region. (PNA)