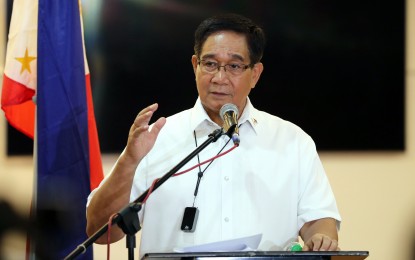 MANILA – The absence of the lawmakers belonging to the Makabayan bloc in the Senate hearing on alleged red-tagging on Tuesday is a waste of "democratic space" allotted for the free exchange of ideas and opinions.
National Security Adviser (NSA) Hermogenes Esperon, Jr., made this remark in an online press conference when sought for comments on the progressive bloc's absence at the hearing.
He called the group's absence "unfortunate" as they missed their chance to air their side and face ranking members of the National Task Force to End Local Communist Armed Conflict (NTF-ELCAC) regarding the issue.
Esperon was referring to Presidential Communications Operations Office Undersecretary Lorraine Badoy and Southern Luzon Comand chief, Lt. Gen. Antonio Parlade, Jr., both NTF-ELCAC spokespersons.
"They have an opportunity for a dialogue, to talk, Undersecretary Lorraine (Badoy) will have a chance to speak and so will Gen. Parlade. It is unfortunate that they (Makabayan bloc solons) choose not to attend," he said in Filipino.
Esperon, who is also NTF ELCAC vice chair, found the excuses of the Makabayan bloc for skipping the hearing quite flimsy as one of their members claimed to be visiting departed loved ones at the cemetery and while others claimed to going to Bicol to give relief goods to families affected by Super Typhoon "Rolly".
"We admire their intentions (in going to Bicol for a relief goods distribution) but we have information that they did not go there," Esperon said in Filipino.
On claims of going to the cemetery during the "Undas" holiday, he said that this is impossible as all cemeteries in the country were closed from October 29 to November 4 as a preventive measure to prevent the spread of the coronavirus disease 2019 (Covid-19).
"We are saddened that they did not attend as this is the 'democratic space' given to us to talk among ourselves, to exchange ideas and opinion, and to find out who among us is right," Esperon said.
With their absence from the Senate hearing, Esperon said he is now having suspicions that in a little while, the group will come out and admit who they really are, referring to the Bloc's reported alliance to the Communist Party of the Philippines-New People's Army (CPP-NPA).
Esperon added that the absence of the Makabayan bloc might be attributed to their inability to rebut statements of former NPA field commanders who would testify against them.
"You are always calling us fake news but you, you're not only fake news, you're (also) no show. Which is more difficult, no show or those willing to show up and present. Next time, we better see each other so that we can explain and enlighten our countrymen," he added.
Public awareness
Meanwhile, the Armed Forces of the Philippines (AFP) on Wednesday said its officials attended the hearing to express concern for celebrities and vulnerable sectors that might be taken advantage of by CPP-NPA.
AFP chief-of-staff, Gen. Gilbert Gapay, in a statement, said he wanted to raise the public's awareness about the CPP-NPA's scheme of capitalizing on and exploiting the idealism of youth, students and celebrities who have the capability to influence people.
He added that this is in line with the military's peace and development campaign to shield and protect the people, institutions, and vulnerable sectors from the recruitment of communist terrorist groups (CTG).
On Tuesday, the Senate Committee on National Defense and Security, Peace, Unification and Reconciliation, chaired by Senator Panfilo Lacson convened the hearing directed to exercise its oversight authority over the defense sector on the issue of red-tagging/red-baiting of certain celebrities, personalities, institutions, and organizations, pursuant to Senate Resolution No. 559
Defense and security officials claimed there was no red-tagging on their side and that the term was created by the CPP-NPA themselves who acknowledged that Gabriela and other legal front organizations are part of their party building.
Gapay earlier said the military, on many occasions, have encountered in combat operations students who are affiliated with front organizations of the CPP-NPA like Gabriela and others.
They started as members of these organizations and eventually joined the armed formation of the NPA to become cadres. Many of them unfortunately died in operations.
One of the resource persons in the Senate hearing, former communist rebel Jeffrey Celiz also known to his comrades as "Ka Eric", attested to the CPP-NPA's recruitment of minors and also confirmed that there were incidents when the vulnerability of the minors was abused by members of the communist organization.
Other former rebels were virtually present to speak up about their experiences in the communist organization.
They told the Senate committee that they were recruited by the CPP-NPA at a young age through progressive student organizations.
They eventually became key officers who led movements by the CPP's front organizations before returning to the government fold.
Meanwhile, the AFP, as a member of the NTF ELCAC, said it will continue to conduct peace and development projects in partnership with other government agencies to prevent recruitment and concentration of communist terrorists in vulnerable areas. (PNA)