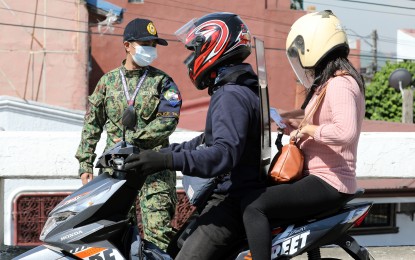 MANILA – The number of focus crimes in the country significantly declined for September and October.
Data from the Philippine National Police (PNP) released on Thursday showed a total of 6,214 focus crimes were recorded for the past two months this year, a 46-percent drop from 11,447 incidents recorded in the same period last year.
The eight focus crimes include homicide, physical injury, robbery, theft, vehicle theft, motorcycle theft, and rape.
PNP chief, Gen. Camilo Cascolan said the decline in focus crime incidents was observed in the wake of the transition of more areas to the less strict general community quarantine (GCQ) and modified GCQ.
Theft and robbery cases posted the biggest drop, both at 54 percent, from 4,013 to 1,846 incidents and from 1,694 to 785 incidents, respectively.
Motorcycle theft cases came in second at 52 percent, from 711 to 344 incidents, followed by physical injury cases at 49 percent, from 1,928 to 979.
Rape cases decreased by 36 percent, from 1,672 to 1,075; vehicle theft cases by 30 percent, from 64 to 45; homicide cases by 19 percent, from 300 to 242 and murder by 16 percent, from 1,065 to 898.
On Wednesday, PNP chief, Gen. Camilo Cascolan said the nine-month crime trend recorded from January to September further dipped sharply towards the end of October with a more notable decrease in peace and order index crimes.
Despite the easing of quarantine restrictions, Cascolan said the PNP intensified its campaign on anti-criminality, anti-illegal drugs and address the increasing incidents of motorcycle-riding suspects.
"We continue to enhance our operations on anti-illegal drugs," he said.
He added that a total of 234,036 anti-drug operations were conducted from July 2016, where 357,069 suspects were arrested, 7,897 were killed and 1,290, 768 surrendered.
Cascolan also cited a police anti-illegal drug operation on October 25, where operatives confiscated 8.5 kilos of shabu during the two buy-bust operations in Bacoor City, Cavite.
"In close coordination with PDEA, the Prosecution and the Courts, the confiscated illegal drugs with a value amounting to PHP19.6 million have been disposed of properly through incineration," Cascolan said.
He added that the PNP Intelligence Group was able to arrest five hardcore terrorists in recent operations. (PNA)