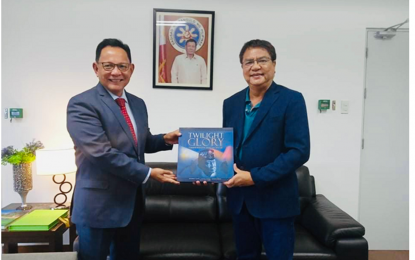 MANILA – Presidential Assistant for Northern Luzon Raul Lambino on Wednesday cited the historical significance of a newly published book "Twilight Glory: A Tribute to Heroes and Veterans" as a must-read book for every Filipino.
Lambino, who is also the administrator and chief executive officer of Cagayan Economic Processing Zone (CEZA), made the comment during a courtesy call of the book's principal author and publisher Melandrew T. Velasco at the former's office in Mandaluyong City.
"We commend the authors and publishers of this colossal book covering 500 years of Philippine history and for extolling the heroism of Filipino heroes, past and present, and it is a must read for every Filipino," Lambino said.
Twilight Glory: A Tribute to Heroes and Veterans is a narrative of the Filipino people's struggle to win freedom and independence. It highlights the most significant periods in the country's history from the 1896 Revolution, participation in World War II, the Korea and Vietnam wars, and the 1986 EDSA People Power Revolution, among others.
Lambino noted that the book also chronicles the continuing fight of Filipino veterans for benefits and recognition, not only in the country but most especially in the United States.
Aside from these, the book tackles the recent and present challenges the country faces that have given rise to a new breed of heroes.
Published by Media Touchstone Ventures, Inc. (MTVi) in collaboration with the Philippine Veterans Affairs Office (PVAO) and the Ramos Peace and Development Foundation, Inc. (RPDev), its publication was made possible by sponsors from the business sector led by San Miguel Corporation.
Other corporate sponsors are Manila Water Company, Inc.; Maynilad Water Services, Inc.; San Lorenzo Ruiz Builders and San Lorenzo Water Development Corporation; International Container Services, Inc.; Philippine Veterans Bank, and Philippine Amusement and Gaming Corporation (Pagcor).
PVAO Administrator Ernesto G. Carolina and one of the book's co-authors said the book tells in words and pictures the struggles of Filipino heroes and veterans for a free, independent and sovereign nation.
"It is not only about the past, hindsight or foresight but also about daring, caring and having the compassion of heart to share what we have," he said. He added that the book also projects the ideals that veterans represent—the ideals of patriotism, self-sacrifice, courage and love for country," Carolina said.
At the recent book launch, aside from Carolina, those who delivered messages include Lingayen Mayor Leopoldo N. Bataoil, also co-author; TECO Representative Ambassador Michael Peiyung Hsu; MGen Antonio Taguba, chairman and one of the founders of Filipino Veterans Recognition and Education Project (FilVetREP); Defense Secretary Delfin Lorenzana; NHCP Executive Director BGen Resty Aguilar; Col. Agerico Amagma III PAF (Ret.), acting chief of PVAO's Veterans Memorial and Historical Division; and Velasco.
In his remarks, Velasco spoke of gratitude and patriotism as he acknowledged the many heroes, past and present.
He also expressed his gratitude to former President Fidel V. Ramos who was honored during the virtual book launch and the book's cover.
Twilight Glory will also soon be available in the United States on a limited edition. Interested parties may order through text at 09175080546 for book orders and deliveries or email at [email protected] (PNA)