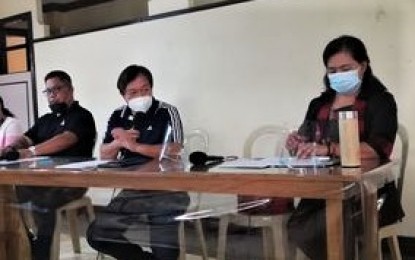 BAGUIO CITY – A total of 56,600 workers in the Cordillera Administrative Region (CAR) who were displaced due to the coronavirus disease (Covid-19) pandemic are expected to be given more emergency financial assistance from the government's Bayanihan 2 fund.
Exequiel Roni Guzman, Department of Labor and Employment (DOLE) in the Cordillera Administrative Region (DOLE-CAR) director, on Tuesday called on workers and employers to avail of the additional assistance under the Covid-19 Adjustment Measures Program (CAMP) of the department.
Under the Bayanihan 2 grant, workers from the micro, small and medium enterprises (MSME) and other sectors who were displaced or whose income was substantially decreased as a result of the pandemic can avail of the new aid, Guzman said.
Guzman added that enterprises that previously registered their workers for the CAMP under the Bayanihan 1 but were not served due to depleted funds are the priority under CAMP-2.
He said new applications for those who have not yet applied for government assistance would be accepted, particularly the displaced workers under the tourism industry including the community tour guides, the teaching, and non-teaching personnel whether part-time or full time in private educational institutions, and technical-vocational institutions and other workers in the MSME.
A budget of PHP283 million is allotted for the DOLE-CAMP, Department of Tourism (DOT)-CAMP, and the CAMP-Education.
The DOT has PHP49 million fund, CAMP-education has a PHP87 million fund and DOLE has PHP147 million.
Under the program, a beneficiary will receive one-time financial assistance of PHP5,000.
Jesus Atal, DOLE-CAR assistant regional director, said while the DOT-CAMP disqualifies those who have availed of other government assistance, the DOLE-CAMP can accommodate them as long as after the DOLE's approval, their total financial assistance from the government will not exceed the PHP11,000 ceiling.
He said employers can register their workers or the workers themselves can register online via https:// reports. dole. gov. ph/.
Atal said as of Tuesday, CAMP-Education still has 17,415 slots, the DOT-CAMP needs 9,664 slots and the DOLE-CAMP has about 22,000 more slots.
Since DOLE-CAR received its allocation in October, it has paid 7,188 approved registrations for CAMP-2.
"Even those who are still employed with their previous jobs but whose income is affected due to a different work arrangement can avail of the program," Atal said.
"Please avail of this program. This is the government's assistance to you," he added.
Data from the DOLE-CAR shows that there are 5,206 establishments involving 80,424 workers in the region affected by the pandemic.
There are industries implementing the reduction of workdays arrangements, rotation of workers, forced leave, telecommuting or work from home, and temporary closures.
The DOLE earlier assisted 25,000 workers under the CAMP-1 program but with the CAMPs of the three departments, more would get aid, especially with the Christmas season just around the corner. (PNA)