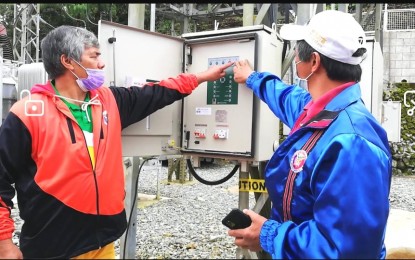 BUGUIAS, Benguet – Benguet Electric Cooperative (Beneco) commissioned on Friday its 10 MVA (megavolt ampere) sub-station at Amgaleyguey, Buguias town to assure reliable power for its consumers.
"This is timely as we prepare for the eventual upgrading of lines in northern Benguet," said Engr. Melchor Licoben, acting general manager of Beneco, during the program.
Beneco is the sole distributor of electricity for Baguio and Benguet. It is currently upgrading its 13.2kV (kiloVolt) power in northern Benguet to allow it to loop with 23kV in southern Benguet and Baguio City and conform the system with the other.
He said they are targeting that in the next three years, Beneco will be able to complete connecting and looping the sub-stations in the towns of Atok, Mankayan, and in Baguio City.
"This will allow one sub-station to cover for the other in case a problem occurs, assuring continued supply of power to the consumers," Licoben said.
This is aside from providing reliable power -- available 24 hours a day, seven days a week with appropriate voltage, he added.
Licoben also said that with the Sinipsip sub-station already commissioned, Northern Benguet's current electricity demand of about 6MV can be increased.
"In case someone puts up a business that will demand a big load of electricity, we can already provide the electricity requirement," he said.
The three Beneco sub-stations bring to 18.75MV capacity in northern Benguet alone.
He also said the commissioning of the sub-station is also part of the preparation for the commissioning of the 3MW (megawatt) mini-hydropower plant of Beneco in Barangay Man-asok, Buguias town targetted in June 2021.
"Thank you for allowing this to stand and bring development to the community. These kinds of projects should bring benefits to the community aside from reliable power," Licoben said.
Meanwhile, Ramel Rifani, network services department manager of Beneco, said the Mankayan and Atok sub-station will augment the electric needs of the towns of Tublay, Atok, Bakun, Buguias, and Mankayan.
"We can see the development that uses electricity, businesses opening demand also increases," he said.
He assured that reliable power will be available.
Rifani also said that an annual increase in electricity demand of 2 to 3 percent is constant in the area.
"We have a leeway for big progress in the area," he said. (PNA)