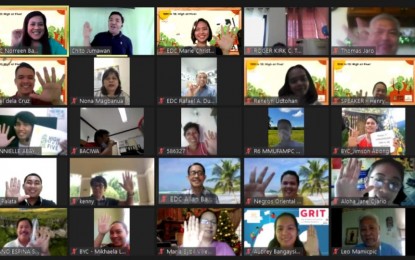 DUMAGUETE CITY – Despite the travel restrictions during the community quarantines, a massive joint government and non-government movement for the forest restoration of Negros Island has already planted eight million trees on its fifth year.
The 10 Million Trees in 10 Years (10M in 10) for a Greener Negros Movement was launched in 2015 by geothermal power leader Energy Development Corporation, in collaboration with the Department of Environment and Natural Resources (DENR), other line agencies, and civil society groups.
The aim was to plant and grow 10 million trees in 10 years across the island.
The movement honored its partners via a Zoom celebration recently with the theme "High Five at 5", a media release from EDC said Tuesday.
In Negros Oriental, the movement paid tribute to one of its partners, Rene "Tatay Eti" Vendiola, who is known for being a "rainforestation" farmer and owner of the Liptong Woodland in Bacong town.
Bacong is dubbed as a "haven of Philippine native trees".
"They call me Tatay not really because of my age but because I'm the father of endemic native trees in Liptong Woodlands," Vendiola said in his short video played during the Zoom event.
"I didn't hesitate to partner with 10M in 10 and with EDC because I see that their goal and dedication are true. I can see that 10M in 10 has a positive effect," Vendiola said.
Meanwhile, Norreen G. Bautista, head of EDC's Corporate Social Responsible (CSR) team in Negros that likewise manages the company's 10M in 10 contributions, was quoted as saying "we are grateful to our partners whose unwavering commitment to our common goal of re-greening Negros island was proven as they helped us exceed our five million target number of seedlings to be planted and managed to maintain an average survival rate of 85 percent amid this challenging year."
"The health crisis brought about by Covid-19 has put the spotlight even more on the need to keep our air clean through decarbonization, which entails planting and growing native trees as well as shifting to renewable energy for our source of power," she added.
Bautista said there are 83 new partners this year for the greening movement of Negros.
These additional sign-ups brought to 252 the movement's total number of partners as of December 2020, EDC said in its statement.
Among the top achievers that were cited was the Alliance of Mangrove Planting Organizations which was able to plant a total of 500,000 seedlings since it became one of the movement's founding members in 2015.
Another partner is Jefrey "Jepoy" Palata and his organization, Edmund Rice Industries-Kabankalan, Negros Occidental chapter, one of three chapters of this international foundation supported by Edmund Rice Foundation Australia that was also engaged in mangrove and tree planting until Covid-19 initially crippled its activities that led to the chapter's closure.
To keep pursuing his passion for planting native trees, Jepoy came up with a climate change module that involved planting a total of 1,000 native tree seedlings in his area with the help of his friend, Fr. Jude Garceniego, head of Sharing with the Poor is Always a Grace- a HOPE (SPAG-ASA) Feeding Charity Work that is now also a 10M in 10 members, as well as other volunteers.
10M in 10 partner, Lawyer Henry Sy Yap, was likewise cited for his passion for environmental preservation that inspired him to include his 16-hectare Farmville de Bago into a reforestation area.
"I have committed to plant and grow native trees and to convince my family and friends to take the same path in their own little way to fight climate change," he said.
Over 100 partners graced the virtual event, representing various stakeholder groups such as government agencies, local government units, academic institutions, businesses, media, non-government organizations, and other concerned groups and individuals. (PNA)