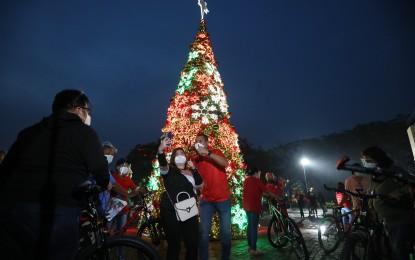 MANILA – As Filipinos begin the final week of this year with the most number of holidays, there are types or kinds of people who have to work on holidays.
The Webster's New Dictionary describes briefly the noun holiday as "Day or period of rest from work, or of recreation."
The last week of the final month of the outgoing year 2020 has four holidays: Dec. 24 (Christmas Eve), Dec. 25 (Christmas Day), Dec. 30 (Rizal Day), and Dec. 31 (New Year's Eve).
In addition, the first day of the coming year (Jan. 1, 2021) is also a holiday, meaning an extra period of rest for most working people.
In observance of such holidays, private employers normally do not require their employees to report for work. Those who are required to work on such days of rest are entitled to extra pay as provided for by labor laws crafted by the government.
The Philippine government itself allows its officials and other personnel to enjoy non-working holidays. This is the reason why the Office of the President in Malacañang issues executive memoranda providing for special non-working holidays nationwide, or in specific areas in addition to the 12 national legal holidays.
However, there are exceptions to this policy. Such memos also provide that government employees in offices performing vital tasks must have skeletal forces to work in emergency cases or situations.
This is the reason why we see people who continue working even on holidays, instead of staying at home.
Who are these people? They include print and broadcast media personnel; soldiers; policemen; firemen; weathermen and volcanologists; doctors, nurses, and other hospital crew; mall employees; movie house staff; pilots, stewardesses and other personnel of airports and immigration bureau; bus, jeepney, taxicab, tricycle drivers, and personnel of Metro Rail Transit (MRT) and Light Rail Transit (LRT).
Why do they have to report for work on a holiday?
Print and broadcast media personnel --reporters, photographers, deskmen and editors, radio-television crew, including reporters and cameramen-- need to work on a rotation basis seven days a week to inform the people about what is happening around them.
Members of the Armed Forces of the Philippines (AFP) have to always remain in their posts, even during holidays, as part of their tasks to keep the country safe from terrorists and criminals who do not observe holidays themselves.
This is also true with policemen and firemen and other law enforcers, including those in the barangay levels, who have to respond to emergencies such as accidents and fire incidents, among other catastrophes.
Weathermen, geologists, seismologists, geophysicists, and other employees of the Philippine Atmospheric, Geophysical and Astronomical Services Administration (PAGASA) and Philippine Institute of Volcanology and Seismology (Phivolcs) have to stay alert on the possible occurrences of adverse weather and natural conditions such as storms, floods, earthquakes, and volcanic eruptions.
Doctors, nurses, and other hospital staff need to be on duty day and night to attend to people needing health care.
Personnel of shopping malls, hotels, fast food outlets, and movie houses have to attend to shoppers, travelers, diners, and theater enthusiasts.
Aircraft pilots and stewardesses are needed round-the-clock to attend to both incoming and outgoing travelers, along with immigration personnel at airports.
Bus, jeepney, taxicab, and tricycle drivers are necessary to cater to travelers who do not have their own vehicles. The same is true with the operators and other personnel of the MRT and LRT in Metro Manila. (PNA)