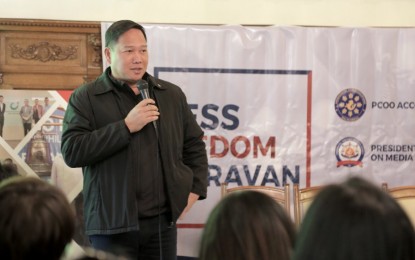 MANILA – The National Union of Peoples' Lawyers (NUPL) is always in the know when it comes to the arrest of ranking Communist Party of the Philippines (CPP) officials and their allies as it is their role is to lawyer for them.
This, according to Southern Luzon Command (Solcom) chief, Lt. Gen. Antonio Parlade, Jr., in a statement Monday.
"The NUPL has correctly predicted the subsequent actions of our law enforcers. Indeed, there will be more arrests because there are so many of these terrorists, disguised as activists, still out there. How did the NUPL know? Simple. They are run by the Party Group of the CPP, the 'Lupon ng Mananangol para sa Bayan' (LUMABAN), which includes its chair, Atty. Neri Colmenares and Carlos Zarate," said Parlade, also a spokesperson of the National Task Force to End Local Communist Armed Conflict (NTF ELCAC).
The NUPL, he said, knew about the impending arrest of these CPP officials because their role in the scheme of things is to reportedly lawyer for arrested suspected communist terrorists while militant human rights group Karapatan bails them out.
"Remember top NPA leaders Elizalde Cañete and Fred Cania who were both bailed out by Karapatan in Davao and Negros?" he added.
Parlade was referring to the December 10 arrest of Manila Today journalist Lady Ann Salem, and union organizers of labor group Defend Jobs Philippines, namely Dennise Velasco, Mark Ryan Cruz, Romina Astudillo, Jaymie Gregorio, Joel Demate, and Rodrigo Esparago.
The seven suspects, who are reportedly officials of the Metro Manila Regional Party Committee CPP-NPA-National Democratic Front (NDF), were arrested in simultaneous operations in Manila, Quezon City, and Mandaluyong.
He challenged allegations that the evidence was planted during the arrest operations of the suspected CPP officials.
As lawyers, it is the duty of the NUPL to prove their allegations, he said.
He also scored the group for claiming that they provide free legal assistance when it is known, that NUPL charge retainer fees to legitimate activists and give free legal services to communist terrorists.
"More often though, they leave their CPP-NPA (New People's Army) clients to fend for themselves. It's sad, isn't it? After being exploited by the CPP, many of these 'lesser souls' are abandoned to rot in jail. That's exactly what happened to Alexa Pacalda, a Gabriela-Youth member captured in Quezon. Her lawyer Atty. Ma. Sol Taule of NUPL, has abandoned her after having difficulty proving that Alexa is merely an activist. What's with all the videos and photos she had while training with the NPAs in Quezon," Parlade said.
He also cited "Morong 38" member Emilia Marquez alias "Roxanne" who was captured in Mindoro in 2017 and suffered the same fate.
"She was abandoned when her NUPL lawyers failed to prove that she was simply a health worker-activist. They could not counter the heavier testimony of her own sister Emily," he added.
He lambasted NUPL's claims that those communist terrorists killed during government law enforcement operations are legitimate activists.
Same excuse
NUPL, he added, will use the same excuse in the recent arrest of Ruel Custodio alias "Baste", the alleged head of the finance committee of Sub-Region Military Area (SRMA-4A), Southern Tagalog Regional Party Committee (STRPC), for kidnapping and illegal possession of explosives.
"Arrested with him (Custodio) was Ruben Estocado of Guerilla Front L1, KP1 of the BRPC (Bicol Regional Party Committee). They were arrested in the staff house of Board Member Rhodora Tan of Quezon. For aiding terrorists, Board member Tan will surely have a heyday explaining herself in court," he added.
He said that last week, Enriquita Guelas alias "Cora", Front Secretary of L2, KP3 BRPC was captured in Bulusan, together with Romeo Escandor, a medical staff of L2, KP3.
Since many more communist terrorists will be nabbed in the coming days, he told members of LUMABAN that their hands will be full defending the former.
Parlade also advised the group not to look into the case of the police officer who shot dead two persons in Paniqui, Tarlac last December 21 as all government efforts are aimed at bringing justice to the victims.
"I tell you now Atty. Neri Colmenares, Atty. Edre Olalia, and your LUMABAN gang, there will be more arrests of CPP-NPA terrorists. Your hands will be full, so don't bother attending to the case of Police Cpl. Jonel Nuesca just for your cheap propaganda. The entire police force and the country will pound on him until justice to the Gregorios is served. Our plate will be full, too, with these soon to be arrested terrorists, so we need not concern ourselves with your activists as their rights are well protected by the state and constitution," he added.
The CPP-NPA is listed as a terrorist organization by the United States, European Union, the United Kingdom, Australia, Canada, New Zealand, and the Philippines.
He also took potshots at the group's claims of injustices despite destroying the country's justice system via the communist terrorists' "kangaroo court".
"After destroying our justice system by employing your quick justice system called kangaroo court, you now invoke democratic principles to circumvent our laws. After continuously eroding the people's trust in their institutions by attacking and intimidating the judiciary, you now cry foul of perceived injustices," he added.
Filipinos, he said, are now aware of the "duplicitous schemes" of the NUPL hence, they should not go about threatening the government.
"We will throw the books on you so don't threaten the government about it. You and your cohorts in the CPP have been exposed and now you want to bring in your foreign legal network from the International League of Peoples' Struggle led by Jose Maria Sison," he said. "You are forgetting the ATL (Anti-Terrorism Law or Anti-Terrorism Act of 2020) is now in effect and the CPP-NPA has been designated a terrorist organ and that applies to all, including foreigners who aid these terrorist organizations."
Parlade said the legal arm of the NTF ELCAC is determined to accomplish its mission. (PNA)